Athletics Fixtures In Northern Ireland
Belfast Everybody Active Development Squad
Mary Peter's Track
13 June 2018 » 04 July 2018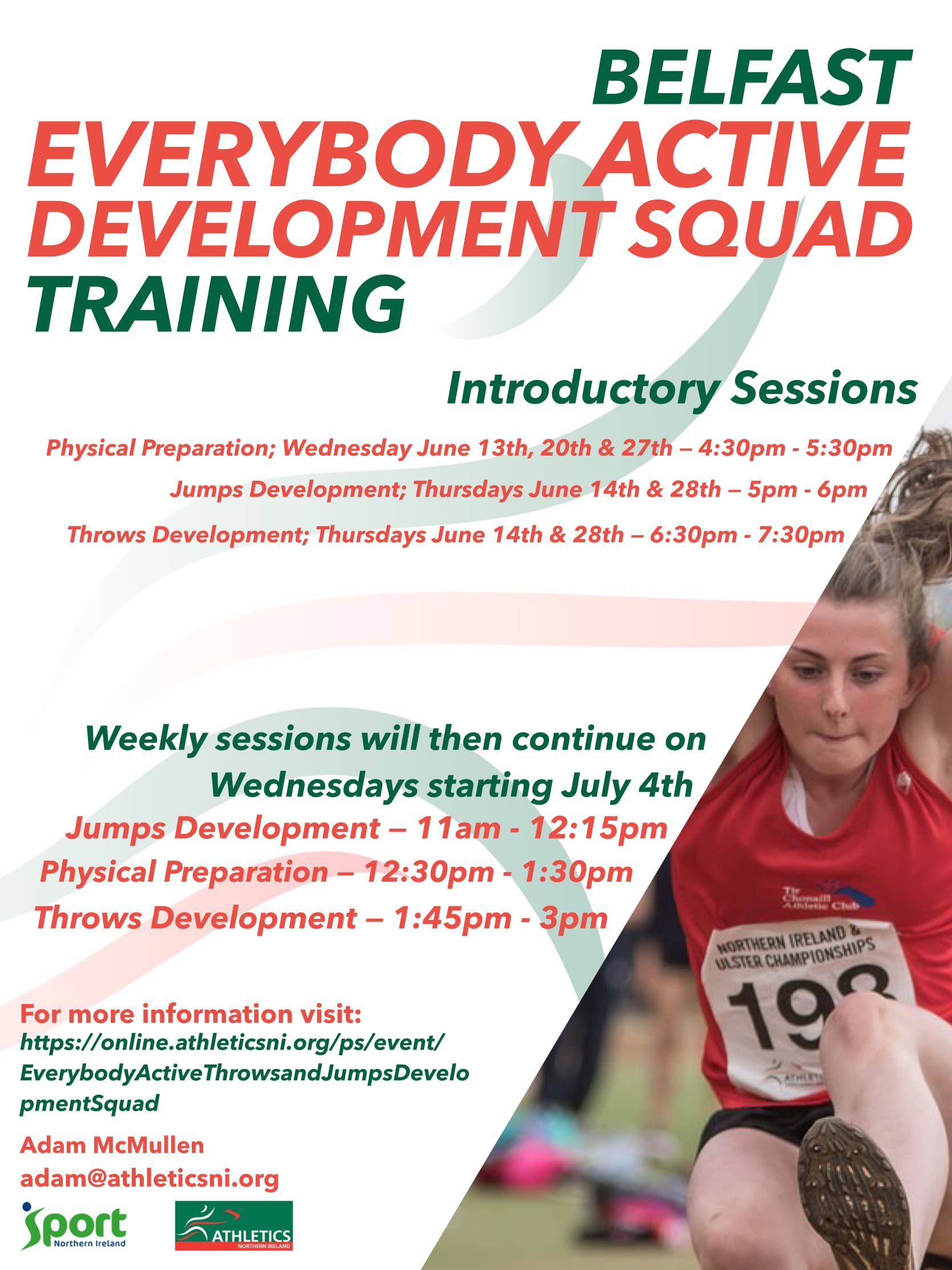 These event squads will run every Wednesday for 10 weeks starting Wednesday July the 4th finishing September the 5th.
There will be introductory sessions on:
Physical Prep; Wednesday 13th, 20th & 27th June - 4.30pm - 5.30pm.
Jumps Development; Wednesday 14th & 28th June 5pm - 6pm
Throws Development; Wednesday 14th & 28th June 6.30pm - 7.30pm
Following these introductory sessions all three squads will take place on the same day, Wednesday, as follows:
Starting July 4th from:
11am - 12.15pm - Jumps Development - Long Jump/ Triple Jump
12.30pm - 1.30pm - Phyical Preparation
1.45pm - 3pm - Throws Development - Shot Putt
These sessions will run every week concluding on September the 5th.
The throws development (shot putt) and jumps development (long jump and triple jump) sessions will be for athletes aged 12- 18 years old of all abilities and will help them to train for for long term participation in athletics. Sessions will be lead by Everybody Active coach Adam McMullen and will be suitable for athletes who have enjoyed participating in athletics for their school in 2018 or those who have joined a club but require additional specialist coaching for their event group.
The Physical Preparation session (60minutes) will be set up to allow athletes from all sports and abilities to help develop their functional movement. There will be an emphasis on jumping and landing mechanics as well as sprint drills to help develop acceleration and max velocity running. The session will conclude with bodyweight strengthening and injury prevention activities.
For any more questions or queries regarding these sessions please contact Adam McMullen via email: