Athletics Fixtures In Northern Ireland
Coleraine Campus NI and Ulster 5k Championships 2023
Sports Centre Ulster University Coleraine.
10 March 2023 » 10 March 2023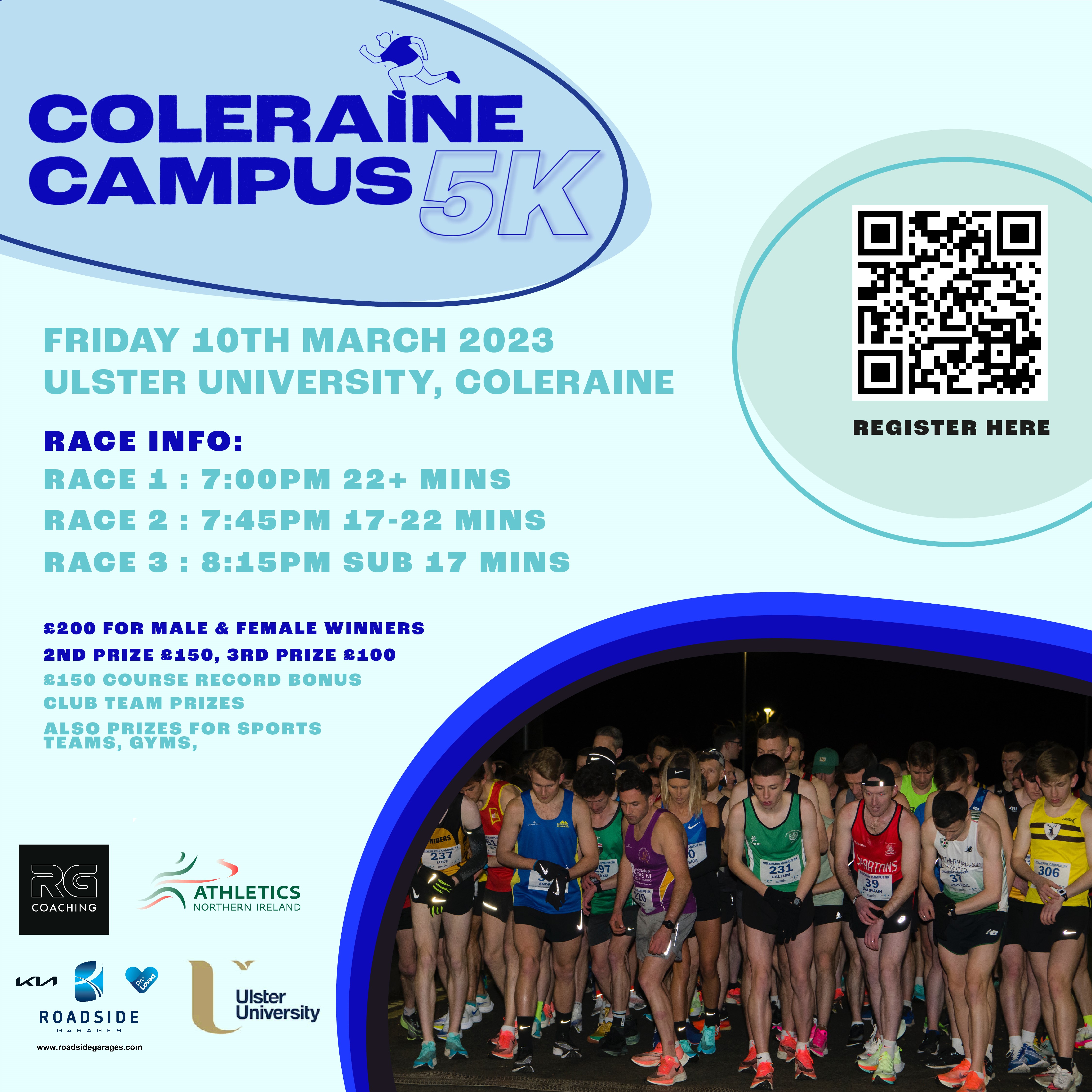 Coleraine Campus 5k – Road Championship reaches Coleraine for first time
Excitement is building in anticipation of a first for Coleraine, as it plays host to the prestigious Northern Ireland & Ulster Road 5k Championships, being held as part of the Coleraine Campus 5k on Friday 10th March 2023.
In its second year, the event which attracted over 300 runners in 2022, offers the chance of a PB and an electric atmosphere on a lapped course within the University Campus in Coleraine.
A spokesperson from headline sponsor, Roadside Garages Coleraine who is backing the event again in 2023 commented, "We're delighted to be supporting the Coleraine Campus 5k for the second year running (no pun intended!) after its very successful launch in 2022. Ryan Galway has done a fantastic job in organising and promoting this already popular event which has attracted so many runners and supporters to the North Coast, as well as raising so much money and awareness for local charities. We look forward to being there on the day with our very own Roadside runners!"
Runners ranging from 14 to 40 minutes took part last year and this year there will be 4 separate races on the night – an under 16 Junior Race (approx. 1100m), 22+ mins 5k, 17-22 mins 5k and a Sub 17 minute 5k. It is hoped that 2022 NI & Ulster 5k Champion & recent U20 European XC silver medalist Nick Griggs and 2018 Commonwealth Games athlete Emma Mitchell will be back to defend their titles.
So far, entries for 2023 include City of Derry's Conor Bradley, Raheny Shamrock's Kieran Kelly as well as 2022 winner Jonny Whan of Clonliffe Harriers. It is hoped that 2022 Commonwealth Games runner Hannah Irwin will make a return from injury at the race in March.
Nigel Dobson, head of Sports Services at Ulster University commented, "We are delighted to be supporting the delivery of the 2023 NI & Ulster 5k Road Championships at Ulster University's Coleraine Campus this Spring. The campus has a rich history of hosting running and cross-country events over many years. Building on the back of the inaugural year, we know that the event will attract a strong field for all race categories and attract elite runners from afar. Best wishes to all taking part in the event, we are very proud to welcome you all on campus and hope you have a wonderfully successful evening."

Entries are filling up fast and runners have until Monday 27th February to register online at the link below:
Coleraine Campus NI and Ulster 5k Championships 2023 | Athletics Fixtures in Northern Ireland | Athletics Northern Ireland (athleticsni.org)
"Coleraine Campus 5k sponsored by Roadside Garages is back in 2023 for its 2nd edition after a successful first race in 2022."
Set within the grounds of Ulster University, Coleraine, the race offers runners a fast looped course with a good chance of PB's and competitive racing. With times ranging from 14 to 35 minutes in 2022, this race is for everyone!
Our race charity for 2023 is MND Association and we look to build on a substantial donation raised in 2022 for the Downs Syndrome Association.
Start Time: 7pm
Race details:
Race 1 @ 7pm: 22+ minutes
Race 2 @ 7.45pm: 17-22 minutes
Race 3 @ 8.15pm: Sub 17 minutes – Men with a PB sub 14:50 & women sub 16:30 get in touch with Ryan.
Prizes include:
1/2/3 overall
1/2/3 in all races
Age Category prizes
Team Prizes
Prizes for gym teams, sports club teams, church teams & school teams
Junior Race for Under 16's: Entry on the night (approx. 1300m)
Entry Fee: £16/£18
Thanks for your support and we look forward to seeing you in March.
For any enquiries about the race, contact Ryan Galway (Race Director) on 07795088524 or via email (rjgalway89@live.co.uk).