Athletics Fixtures In Northern Ireland
Washingbay Green Run 2020 5km 10km and Half Marathon
Washingbay
14 March 2020 » 14 March 2020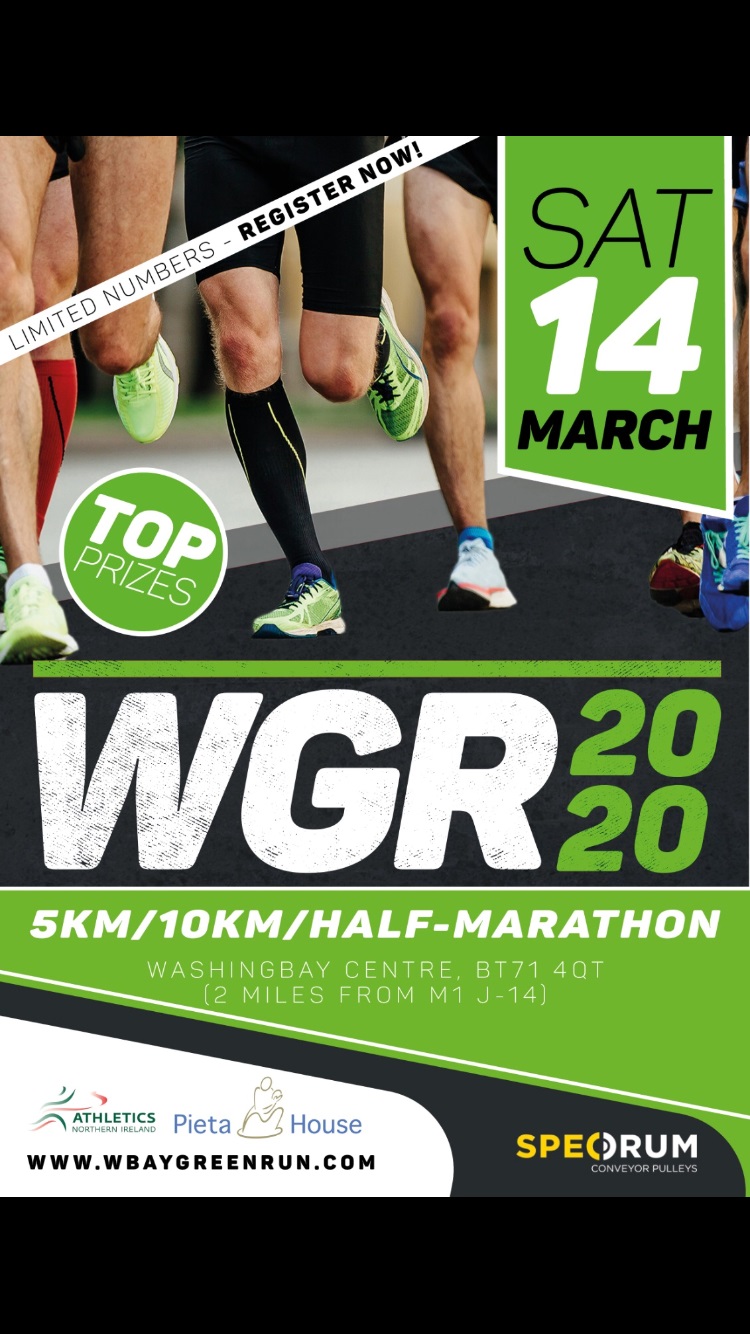 Online registrations are open. Follow our website link and enter now to be in the running for one of our 75 free items of merchandise….design near complete and will be released soon! www.wbaygreenrun.com
Saturday 14th March 2020 marks WGR's 5th birthday and what an event we have planned again. For course record purposes our 5km, 10km and Half-Marathon routes remain as per previous years. A moderately testing 5km, a very flat and fast 10km course, and an occasionally challenging half-marathon route provides perfect opportunities to runners & walkers of all ages and ambitions. Course records available on our website.
Prizes are on offer for the first 3 finishers home in each race for male & female entrants whilst fantastic medals will be presented at the finishing line for all competitors. Our event is renowned for its impressive refreshment spread before & after the races, whilst our well marshalled routes provide an abundance of water-stop opportunities. A physio room is provided for pre & post-event rubs to ensure each eager athlete is in top shape and showers are available in the nearby changing rooms. Year after year the feedback on our event is fantastic and if you wish to provide some further advice we will surely take it on board. Please drop us an email to washingbaygr@gmail.com
During last year's event you may have noticed some ongoing construction work to our new approx. 1km track. We are delighted to announce that the picturesque track is now complete and is the new home of Shamrock Running Club. This track is perfect for warm-ups & cool-downs in a safe environment.
As numbers grow monumentally for our event each year, parking arrangements & safe running areas is critical in our planning. We would kindly ask that participants travel-share where possible.
Each year the Washingbay Green Run partners with a charity to assist with much needed fundraising. We are delighted to announce that Pieta House are our chosen patrons in 2020. The much-needed therapeutic approach they provide in the field of mental health is amazing and we are more than happy to lend a hand with financial aid.
So there you have it, entries are now open and planning is well underway to make WGR'20 the biggest and best yet. Visit our website www.wbaygreenrun.com and follow us on Facebook & Twitter for further updates. Sponsorship & marketing options are available for businesses, email us on washingbaygr@gmail.com for further information. Feel free to pass this email onto other friends & groups who may be interested, thanks!
Good Luck,
Brendan
Washingbay Green Run
For more information please contact Brendan Quinn: