Athletics Fixtures In Northern Ireland
Storming the Castle
Amphitheatre Carrickfergus
21 August 2022 » 21 August 2022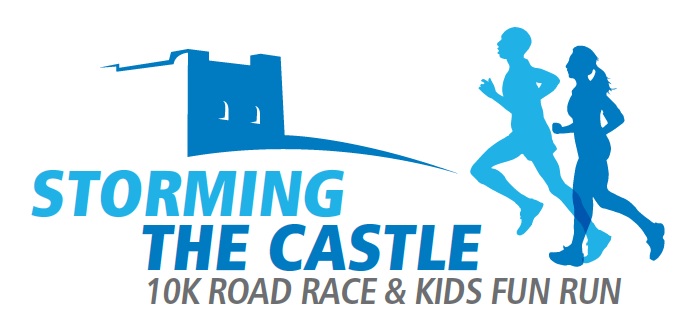 2021 race postponed until 21st August 2022. All athletes deferred to the 2021 event will be emailed directly with further details.
Come and join us…..


Race Information
Storming the Castle 10K Road Race continues to get record numbers and we fully expect to sell out again. Numbers will be capped at 1,000, so if you want to secure your place to avoid disappointment – book now!
Race Start Time: 2pm at the front of the Amphitheatre Leisure Centre.
The Route:
This is a fantastic, fast, flat course with potential for securing 'personal bests'. Starting at Carrickfergus Amphitheatre, it encompasses the picturesque promenade along the Marine Highway and waterfront areas, overlooking the world class marina and views of Belfast Lough before finishing at the impressive 12th Century Norman Castle near Carrickfergus Town centre.
Entry:
A popular race for all running abilities from serious competitors, club athletes and joggers, to those simply wanting to keep fit or run for their chosen charity.
Entries must be 15 years of age or over on the event day.
Enter online at athleticsni.org
Special Offer for first 200 registrations £12.
Early bird rates will apply until midnight 30th June - £14 for affiliated and non-affiliated £16. Thereafter the fees will be £16 for affiliated and non-affiliated £18.
Online registration closes at midnight on Monday 24th August 2020.
Late entry fee of £20 will be applied for all on the day registration – 30 August 2020 (subject to availability).
Entries are NON REFUNDABLE.
We will accept name changes by email ONLY to stc@seaparkac.com until 7pm on Wednesday 26 August 2020.
Any athlete running under another competitor's race number will be disqualified.
The race is part of the Novosco 10K Grand Prix Series.
What's included:
ChampionChip Ireland Timing.
Exclusive Medal.
Finishers' goody bag and post-race refreshments.
Family fun activities in Shaftesbury Park from 2pm to 5pm.
Great memories!
Kids fun run Chase the Knight:
A medieval themed Fun Run and Junior Race for children at the Amphitheatre Leisure Centre.
Two age categories: Fun Run for 4-9 year olds (1k) at 1pm ; Junior Race 10-14 year olds (2k) at 1.20pm.
All children will receive a bespoke medal.
Entry fee £2 per child.
Each child will get a race number which must be worn to race. Collect from the Amphitheatre reception.
For entry contact Amphitheatre Leisure Centre on 028 9335 8342 or email amphitheatre@midandeastantrim.gov.uk
Race Pack Collection:
Available from the Amphitheatre Leisure Centre, Prince William Way, Carrickfergus.
Friday 28 August between 4pm to 8pm.
Saturday 29 August between 9am to 12 noon.
Sunday 30 August from 10am to 1.15pm.
Race Start Time: 2pm at the front of the Amphitheatre Leisure Centre.
Getting Here:
Car Parking: There will be limited car parking at the Amphitheatre but there are a number of other car parks nearby - St Brides Street car park, (De Courcy Centre), Joymount, off the Marine Highway and the Castle car park at the harbour.
Public Transport: The train station is a 5 minute walk from the Amphitheatre visit www.translink.co.uk
Pacers/Marshals:
There will be pacers for the following 40, 45. 50, 55, 60 and 70 minutes and a tail runner.
Listen to the run briefing which will be 5 minutes prior to the start. Please listen to the instructions of the marshals/PSNI.
Note: in-ear or over-the-ear headphones (with the exception of those medically prescribed) are not permitted. Only bone conducting headphones are permitted.
Water, First Aid:
Water stations will be located in the Model P.S (4k), on the main A2 Belfast Road after the turning point (7k) and at the finish line.
First aid will be provided by Ambutran. If any entrant needs medical assistance, please seek the help from one of the race marshals immediately.
Toilets / Changing Facilities:
Toilets, changing and shower facilities are available in the Amphitheatre. There are also toilets at the Castle car park close to the finish line.
Post-Race Refreshments:
Refreshments for participating athletes will be available in Shaftesbury Park a short walk from the finish line. Marshals will direct race finishers after they receive their medal and water to Shaftesbury Park.
Prizes:
Prizes will be given for 1st, 2nd and 3rd male and female. Also age category prizes.
Prizes to be presented by the Mayor of Mid and East Antrim Council at Shaftesbury Park following the finish of the race at approximately 3.30pm.
Photographs:
Photographs will be taken throughout the race and post event. These will be posted to the Storming the Castle Facebook page. Please note these will be used for future publicity materials.
For more information please contact Andy Smyth on 07969031570 or via: