'Extending the Reach of Talent Development': A Coach Development Series
Athletics Northern Ireland are delighted to launch a series of Coach Development Workshops and Webinars, beginning in January 2022. Details of each of the webinars/ workshops included so far in the series, can be found below:
Webinar - Physical Preparation to Support Teenage Athletes
Amy Foster, Laura Kerr & Scott Paulin
Thursday 20th January 2022, 8:30-9:30pm
Zoom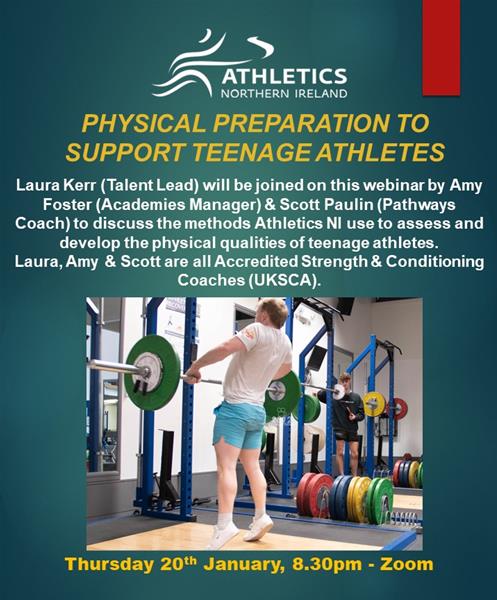 Amy Foster (Academies Manager) will be joined by Laura Kerr (Talent Lead) & Scott Paulin (Pathways Coach) to discuss the methods Athletics Northern Ireland utilise to assess and develop the physical qualities of teenage athletes.
The workshop will include:
Strength & conditioning for teenage athletes: benefits, misconceptions & opportunities
Screening & strength diagnostics to identify areas of opportunity in training: range of movement, strength, power, elasticity & muscular endurance capacity
Optimising running mechanics to improve acceleration, maximum velocity, speed endurance & running economy: training drills & movement cues
Gym-based training: priorities & progressions
Plyometrics: prescription, progression & cueing
Reducing the risk factors for common teenage injuries in Athletics: bone health, biomechanics, training prescription & load management
Amy, Laura & Scott are all UK Strength and Conditioning Association (UKSCA) Accredited Strength and Conditioning Coaches. Laura has an MSc in Human Performance and has worked with Junior International athletes in a range of sports for 15 years. Amy, having had a successful 17-year career as a sprinter reaching 3 Commonwealth Games, holds a PGCE in Physical Education and has worked in Athletics Northern Ireland's Junior programmes for 4 years. Scott has an MSc in Physiology and has experience with Watford Football Club, Randox and Lucozade.
The workshop will provide background and context to training methods for coaches who are either;
currently involved with Athletics Northern Ireland's academies,
wishing to enhance their knowledge and delivery in order to develop talented junior athletes (aged 14+) towards future academy involvement.
Parents may also find the content beneficial to increase their own awareness.
Cost & Registration
Cost: Free
---
Workshop - Physical & Technical Development for Discus Throwers
David Sweeney
Sunday 23rd January 2022 11am-2pm
University Ulster, Jordanstown
National Field Events Coordinator David Sweeney will deliver a workshop on Physical and Technical Development for Discus.
In addition to his role as National Field Events Coordinator, David has been a National coach for Ireland in either Discus, Javelin or Shot Put across multiple major championships over the last 20 years, including the Olympic Games, Paralympic Games, European U18, U20 and U23 Championships, European Throwing Cup, European Team Championships and several Multi-Nation events. During his time coaching Paralympic throwers, David's athletes have collected 21 medals at European or Global level. David is also Throws coach at Dublin City University.
David will deliver a workshop on the fundamentals of Discus throwing to include both theory and practical elements on the following:
Introductory turning drills
Discus throwing progressions
Designing and constructing a typical training session / training week / annual training plan
Cost & Registration:
£15 ANI Registered Member/Coach
£20 Non-ANI Registered Member/Coach
---
Webinar – Supporting the Retention & Progression of Talented Junior Athletes
Laura Kerr
Thursday 3rd February 2022, 8:00pm-9:00pm
Zoom
Hosted by Athletics Northern Ireland's Talent Lead Laura Kerr, this webinar will explore peaking age, maturation, drop out, injury prevalence, the role of junior championships and psychological skills for success.
Laura will share research on peaking age and performance trajectories in different event groups and discuss factors that contribute to drop out. Performance trends and injury surveillance data for Northern Ireland's Junior athletes will also be reviewed.
The webinar will focus on "what it takes to progress" with a focus on negotiating the junior to senior transition. Laura will reflect on learnings from the journeys of some of Northern Ireland's most successful senior athletes.
Laura has an MSc in Human Performance, 15 years' experience as an Accredited Strength & Conditioning Coach (UKSCA) and has coached Athletes to European Junior & British University Medals as well as National Records.
In 2014, Laura established Athletics NI's Youth Academy alongside Tom Reynolds (Performance Lead) as part of a wider drive to support the talent development environment within Northern Ireland, and since then NI junior athletes have gone on to break a total of 24 U18/U20 Northern Irish records.
Webinar content is primarily aimed at both parents and coaches of teenage athletes and will also be relevant for practitioners supporting the development of junior athletes.
Cost & Registration
Cost: Free
---
Workshop - Introducing Steeplechase to Junior Middle Distance & Endurance Athletes
Bashir Hussain
Saturday 5th February 2022, 11am -2pm
Mary Peters Track, Belfast
British Athletics Level 4 Endurance Coach Bashir Hussain, alongside Olympic Games Steeplechaser Kerry O'Flaherty, will deliver a practical workshop introducing the steeplechase event to junior middle distance and endurance athletes on Saturday 5th February 2022 at Mary Peters Track.
This practical workshop will begin with an interview between Bashir Hussain and 2016 Olympian Kerry O'Flaherty, who holds a 3000m steeplechase PB of 9:42.61 and has competed in 3 European Championships, World Championships and Commonwealth Games.
During this interview, Kerry will describe her transition to the steeplechase event and how other events (e.g. cross country, mountain running etc.) can be used to effectively support this transition. Kerry will also reflect on the importance of appropriate progression in training volume/intensity in order to transition successfully from junior to senior, as well as offer specific recommendations on injury prevention in the steeplechase event.
Bashir, who in addition to his British Athletics Level 4 Endurance qualification also holds a MSc. in Biomechanics and coaches 2018 Commonwealth Games 3000m Steeplechase finalist Adam Kirk-Smith and European U23 10000m athlete Matthew Neill, will deliver a presentation introducing the specific physical needs and requirements of the steeplechase event.
This will be followed by a practical session during which Bashir, supported by both Kerry O'Flaherty and Adam Kirk-Smith, will introduce:
Development of specific flexibility and mobility for clearing barriers
Water jump technique and specific training considerations
Tactical considerations for the steeplechase event
Opportunities to promote athletic development through participation in steeplechase event
Steeplechase provides a great platform for middle- and long-distance athletes to diversify and refine their coordination and tactics. The range of training methods and skills associated with this event expose athletes to a variety of physical demands, promoting the physical development of teenage athletes and resulting in greater retention within the sport.
This workshop is aimed at any junior middle-distance/endurance athletes and their parents/coaches, regardless of previous steeplechase experience, who are encouraged to attend and learn more about the potential opportunities within this exciting event.
Cost & Registration Link:
£15 ANI Registered Member/Coach
£20 Non-ANI Registered Member/Coach
---
Workshop - Junior Training for 400m
Ian Neely
Sunday 6th February 2022, 11am – 2pm
Mary Peters Track, Belfast
British Athletics Sprints & Hurdles Specialist Coach Ian Neely will deliver a development workshop to coaches and athletes focused on junior training for the 400m event on Sunday 6th February 2022 at Mary Peters Track.
This practical workshop will focus on:
Ian's training philosophy for the 400m
Loading and intensity of training for athletes through the transition stage from junior to senior.
Speed endurance and how it relates to junior and developing athletes
As an athlete, Ian competed for 12 years representing Northern Ireland and Ireland in the 400m hurdles before transitioning to coaching. Ian had the opportunity to train with some of the best athletes in the world and has used that experience to shape his coaching principles and philosophies.
During his 17 years as a coach, Ian has helped transition young club athletes into top senior international athletes, tailoring their training to help them adapt and develop as they progress through the age groups.
He has coached several athletes, both male and female, from school titles to international representation at European Junior and European U23 Championships, Commonwealth Games and European Championships.
As well as holding a British Athletics Sprints and Hurdles Event Specialist Qualification, Ian is also a regular Tutor for British Athletics Coach Education Qualifications
This workshop will begin with a classroom-based session on training theory followed by practical session demonstration. Athletes may register to attend with their coach and take part in the practical elements of the session.
Please note: Athletes wishing to participate should highlight this during registration.
Cost & Registration Link:
£15 ANI Registered Member/Coach
£20 Non-ANI Registered Member/Coach
---
Webinar – Supporting the Identification & Unique Physical Preparation Needs of Para Athletes
Sam Heathcote & Joe McDonnell – Hosted by Laura Kerr
Thursday 24th March 2022 8:00pm – 9:15pm
Zoom
Northern Ireland, home to 4x Paralympic Champions Jason Smyth (T13) & Michael McKillop (T37), has a rich history of Paralympic success. As we look ahead to Paris 2024 and Los Angeles 2028, Athletics NI hopes to see the next generation of Para athletes and coaches emerge and grasp opportunities to compete locally, nationally and on the global stage.
In this webinar, Sam Heathcote (lead Paralympic S&C coach for Para Athletics at the English Institute of Sport) and Joe McDonnell (multiple medal winning Great Britain Paralympic coach) will discuss:
Identifying future Paralympic medallists
The Paralympic Pathway: specialising, peaking & talent transfer
Identifying & coaching potential para athletes in club settings
Unique needs & opportunities of both para athletes & their coaches
Training considerations for amputee athletes & those with cerebral palsy or visual impairment
The webinar, hosted by Athletics NI Talent Lead Laura Kerr, will be relevant for any athletics coach, regardless of whether they have coaching experience with para athletes or not. Parents of para athletes may also find this useful.
Cost & Registration
Cost: Free
---
Workshop – Maximum Velocity & Speed Endurance Training for 100m & 200m
Amy Foster
Sunday 27th March 2022, 12pm – 3pm
Mary Peters Track, Belfast
Northern Ireland 100m & 200m Record Holder, and 3x Commonwealth Games Athlete, Amy Foster will deliver a Speed Development Workshop on Sunday 27th March, 2022 focusing on:
Amy's philosophy and experience of training physical qualities and mechanics for maximum velocity sprinting
Introducing and progressing speed endurance training for teenage athletes
Training prescription: integration of volume, load and intensity within session planning
Common misconceptions within speed development
During an accomplished 17-year career as a sprinter, Amy achieved junior success with a European Youth Olympics Silver Medal in the 100m before making a successful transition from junior to senior success under the guidance of coach David Reid, qualifying for the World Junior Championships, World Student Games, World Indoors and 3 Commonwealth Games Semi Finals. Amy, who is now Athletics Northern Ireland's Academies Manager, will reflect on her distinguished career and the key elements of training that remained constant throughout.
This workshop is aimed at coaches of junior sprinters aged 14+. Athletes may register to attend with their coach and at the point of registration should identify if they wish to take part in physical demonstrations during the workshop.
Cost & Registration Link:
£15 ANI Registered Member/Coach
£20 Non-ANI Registered Member/Coach