Athletics Clubs In Northern Ireland
There are over ninety clubs currently affiliated to Athletics Northern Ireland.
Joining a Club
Athletics is a sport for all ages and abilities, and with over 90 Affiliated clubs in Northern Ireland, there is sure to be one to fit your needs. By joining a club you can benefit from the knowledge of qualified coaches, as well as the social and friendly atmosphere at your local club training nights and you could even turn your training achievements into results on the competition calendar. Below is the list of benefits for being an Affiliated club and registered athlete: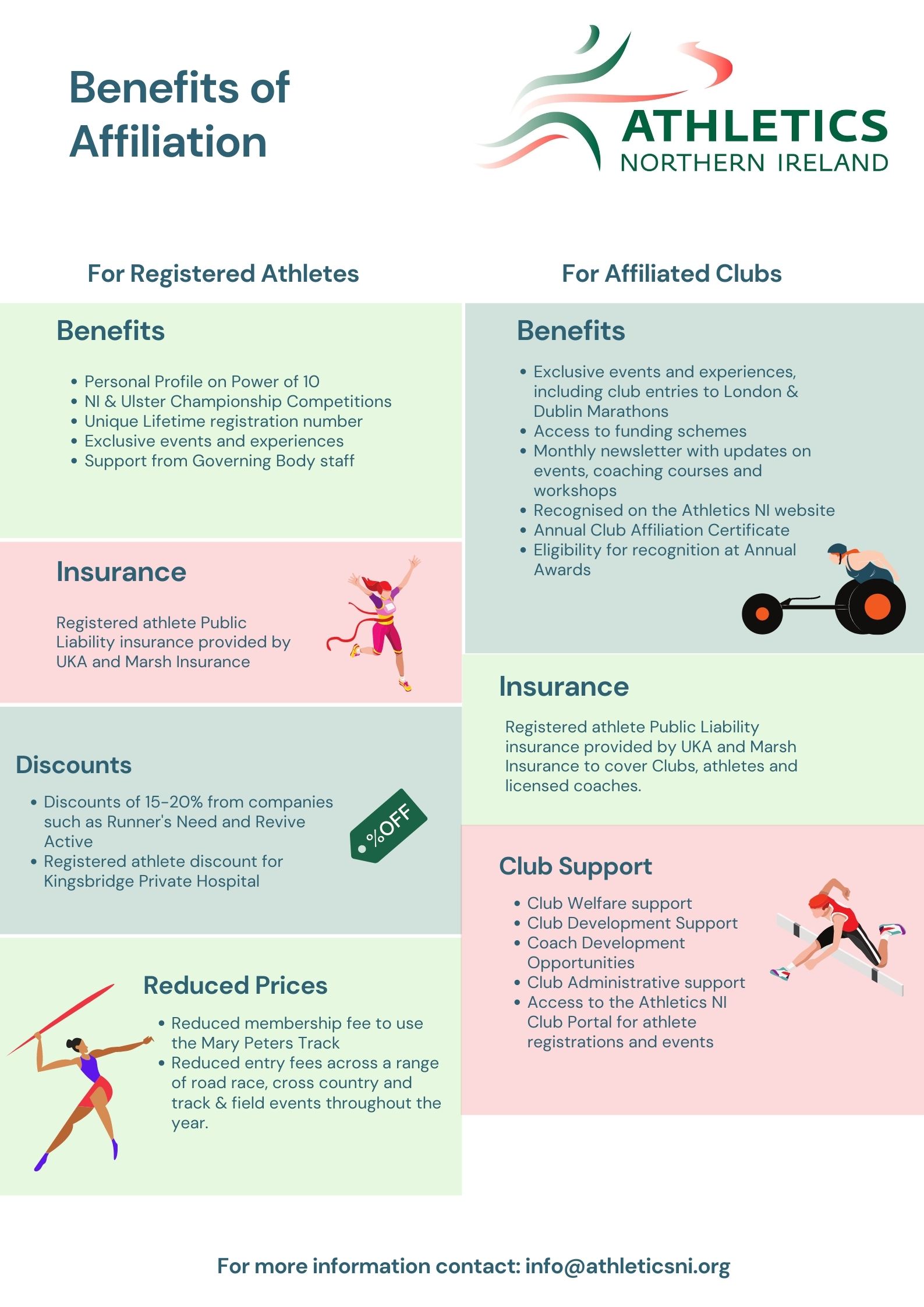 ---
Annual Dues
Club affiliation and athlete registrations are payable annually on 1st April, expiring 31st March each year. Athlete registrations cease to work from 1st April onwards and athletes will not be able to enter events again until they are re-registered, without exception.
Club Affiliation (club registration to Athletics NI) is £120 per year.
2022/23 Athlete Registration (individuals registrations to Athletics NI) is chargeable at:
£6 Juniors (turning age 11, 12, 13, 14 or 15 before 31 Mar 2023)
£18 Seniors (turning 16 or over before 31 Mar 2023)
Athletes turning 10 or younger are not required to pay but may be registered free of charge in order to obtain a valid athlete number.
Athletics Northern Ireland does not invoice for these items, however will issue a receipt upon request. Reminders are given in the monthly mail-outs, which your secretary receives.
Athletics Northern Ireland Membership system has now moved to OpenTrack. For assistance with registering your members, please see below:
Club Development and Modernisation Strategy
Athletics NI are working on the Club Development Framework, which will be one of the fundamental elements of the Athletics NI 2022 – 2025 Strategy and will bring together support and resources to facilitate clubs in their mission to create that environment and to contribute to the growth of our sport. The current draft of the strategy is available here:
Club Development and Modernisation Strategy
Monthly Members Newsletter/ Club Emails
Athletics NI issue a monthly member's newsletter full of information about our upcoming events. These are sent out to all affiliated members and to club secretaries and are issued in the 3rd week of every month.
Club Committee Members will also receive an number of information emails, about event closing dates, notice of registration dates, and other updates. This is important information, so please ensure that your Club Committee details are up to date, so they can pass this information on to your club members.
Defibrillators for Clubs
Cardiac arrest occurs when someone's heart stops pumping blood around the body and they stop breathing normally. It is possible to survive and recover from a cardiac arrest, if you get the right treatment quickly. Giving an electric shock through the chest wall, by using a defibrillator is the only way a person can recover from a cardiac arrest. This can be done in the ambulance, or at hospital, or it can be done by a member of the public at the scene of a cardiac arrest if there is a community defibrillator nearby.
Clubs can apply for a defibrillator through the "Defibrillators for Sport Initative". Please visit the Sport NI website to gain more information on how to apply.