Workshops
Athletics NI in conjunction with British Athletics provide a range of off the shelf workshops that help to provide coaches with a fundamental understanding of key topics. Most workshops contain a combination of theory and practical elements. Some workshops are also delivered purely online through British Athletics Athletics Hub website.
Athletics 365
Athletics 365 is a multi-event development programme, aimed predominantly at 8-15 year olds, which introduces athletes to the fundamental skills of athletics.
Athletics 365 workshops will support coaches to effectively develop athletes technical skills of Run, Jump and Throw activities. Our expert tutors will guide coaches through progressions for coaching Shot, Javelin, Discus, High, Long and Triple Jump, Blocks Set Up, Acceleration, Maximum Velocity Running, Hurdling and Paced Running for Middle Distance.
Athletics 365 workshops will explore training prescription and appropriate volume and load within session planning for junior athletes in club settings.
Next Workshop Date:
Sunday 6th November 2022 at Ulster University, Jordanstown
9.30am-2pm
Cost: £35.00
It is a statutory requirement for anyone who works with children to update their knowledge of legislation and guidance and maintain the ability to act on concerns about the safety and welfare of children and young people.
First Aid Training for Coaches and Leaders
UKA has revised its policy on First Aid provision for Coaches and Leaders so that it is aligned with the HSE requirements under Civil Law and Duty of Care. We are aware that a number of Coaches have already undertaken first aid training as good practice which is great but given recent incidents there will now be a requirement for all UKA Licensed Coaches and Leaders to have a suitable level First Aid Training certificate, renewable every three years in line with the re-licensing process. Details on what sort of First Aid Training Coaches & Leaders will need is available on the below flowchart: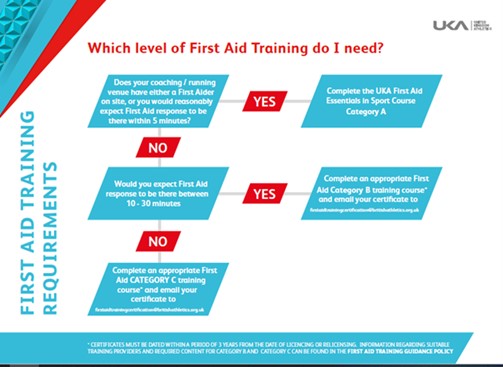 UKAD have a free online course 'Anti-Doping Advisor'. The programme, is a step-by-step learning module which explains the role of the Advisor, the principles of clean sport and all the essential anti-doping information Advisors need for the role.
More details available here: http://ukad.coachwisehub.com/store/207350-accredited-advisor-assessment
Disability Inclusion Training
Athletics Northern Ireland host a number of Disability Inclusion Training in conjunction with Disability Sport Northern Ireland.
This workshop is for qualified athletics coaches or assistant coaches. This workshop is to upskill the coach on how to be more inclusive with their sessions. There will be both theory and practical parts to the workshop and we will cover a section on guide/ visually impared athletes.
Date of Next Course:
When: Sunday 21st August
Where: Mary Peters Track
Time: 10am - 4pm
The Guide Running Workshop will give you the theoretical knowledge behind Guide Running and also the opportunity to practice Guide Running with other Leaders/Coaches and the opportunity to guide athletes who are Blind/Partially sighted.
The Sight Loss Awareness and Guide Running Online workshop enables leaders, coaches and volunteers to attract and support more visually impaired (VI) people to Athletics and running.