Athletics Fixtures In Northern Ireland
Buggy Club NI Christmas Challenge
Virtual
20 December 2020 » 20 December 2020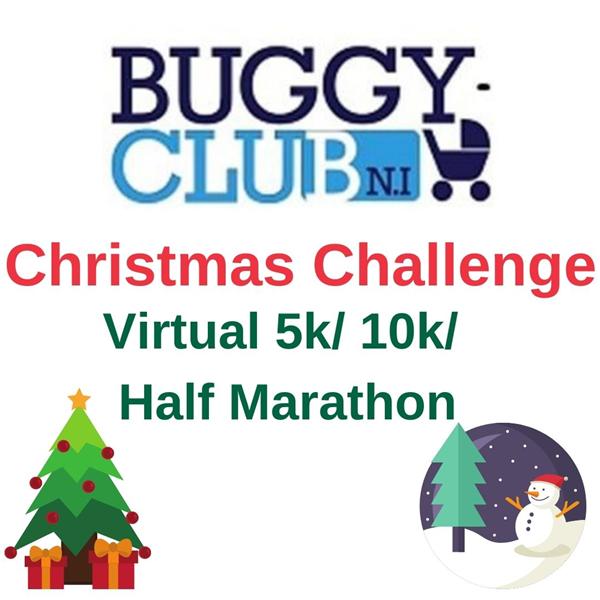 We want to help keep you motivated and active this winter, with our Buggy Club NI Christmas Challenge. Challenge yourself to run a Virtual 5k, 10k or half marathon and support the NSPCC Northern Ireland.
You can help support the amazing work that the NSPCC do, through our JustGiving page.
Train for the next 9 weeks
You must be at least 8 weeks postnatal and have completed the 'Return to Running' assessment before starting any of the programmes. For information on Return to Running visit https://athleticsni.org/Athletes/Athlete-Health-&-Support/Female-Athlete-Health/Return-To-Running
If you want to take part in the Half Marathon distance, you must be able to run at least 6 miles already.

We are hosting the Buggy Club Christmas Challenge in support of the NSPCC Northern Ireland. NSPCC Northern Ireland work across every corner of the community, delivering services to protect children today, prevent abuse tomorrow and to help children recover if they have experienced abuse or neglect:
"We have three incredible centres for children and young people in Belfast, Craigavon & Foyle. Here we work with hundreds of children and young people each year, children who have been sexually, physically, emotionally abused and seriously neglected. Our centres are magical places which through art therapy, play therapy & specialist counselling we help children to rebuild their lives."
"This Christmas we want to make sure that children are heard. Not everyone is looking forward to Christmas this year. For thousands of children, being stuck at home for the holidays is a terrifying thought – and they urgently need their voices to be heard. Our latest video here, highlights how important your support is for our life-changing work during a time where we're experiencing restrictions from the health crisis."
"With the coronavirus crisis threatening to make this Christmas even tougher for children suffering from abuse or neglect, your support can help make sure children have someone to hear their troubles at a time of year when it's all too easy to feel isolated."
For more details on Buggy Club NI PM our facebook page: