Athletics Fixtures In Northern Ireland
Comber Cup
Billy Neill Playing Fields
20 November 2022 » 20 November 2022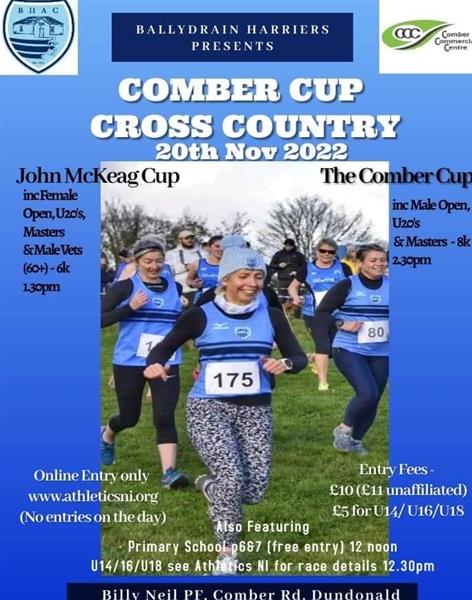 The Comber Cup, sponsored by Comber Commerical Centre, a regular fixture in the Northern Ireland Cross Country League, is scheduled to take place @ Billy Neill Playing Fields, Comber Road, Dundonald on Sunday 20th November 2022.
Online Entries will close on Friday 11th November at 5pm
Event Information:
Pack Collection
We ask that only 1 representative of the club come to collect the bib numbers for any of the age group and senior events, to help us reduce the numbers at the registration tent.
Club representatives will be asked to provide a contact number when collecting the packs.
Please allow plenty of time to collect your race numbers, pins will be provided.
Each of the age groups will be bundled by club:
Primary P6 & P7 can collect their own from 11.15am - race starts @12pm
Junior races U14,U16 & U18 – race starts @ 12.30pm
Senior Ladies and vets - John McKeag Cup - race starts @1.30pm
Senior Men - Comber Cup - race starts @2.30pm
Swaps
Swaps are not allowed under any circumstances.
Toilets/ Changing Facilities
Will be available on the day at the Billy Neill Centre.
Parking
Please ensure you follow directions of the marshals at all times and allow plenty of time to get parked in advance of your race start time.
Please Car share where possible. NO DOUBLE PARKING.
Gazebos
Please ensure you follow directions of the marshals where these have to be erected.
Prizes
Category winners will be notified by our club Secretary once results are available.
Results
These will be sent to Athletic NI and should be available Monday 21st November 2022.
NO ON THE DAY ENTRIES.
For more information please contact Valerie Martin on 07834522679, or alternatively via email or the club website: