Athletics Fixtures In Northern Ireland
Furey Auctioneers North West XC
Templemore Sports Complex, Derry
18 December 2021 » 18 December 2021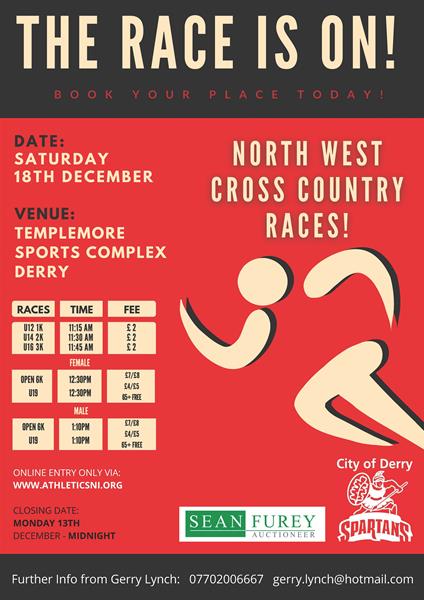 Closing Date is Monday 13th December at midnight. No On Day.
Timetable:
U12 1K at 11 15am
U14 2K at 11 30am
U16 3K at 11 45am
Open Female & M65+ & Open Male 6K at 12 45pm
PRIZES:
Age Group races: ribboned medal to all finishers
Top 3 Finishers in Open Races and Winners of All usual categories.
Team Winners: Men, 6 to score Women 4 to score
Info:
Registration for the Under Age races open at 10am and for the combined Open race at 11 15am.
Registration is in an indoors space and face masks must be worn there. Masks also to be worn when using the indoor Toilet facilities adjacent to the course.
Remember the Combined Open race--all males and females start together-- now has a 12 45pm start.
For more information, please contact Gerry Lynch on: 07702006667 or via email: