Athletics Fixtures In Northern Ireland
Para Athletics Testing Session
Ulster University, Jordanstown
06 June 2021 » 06 June 2021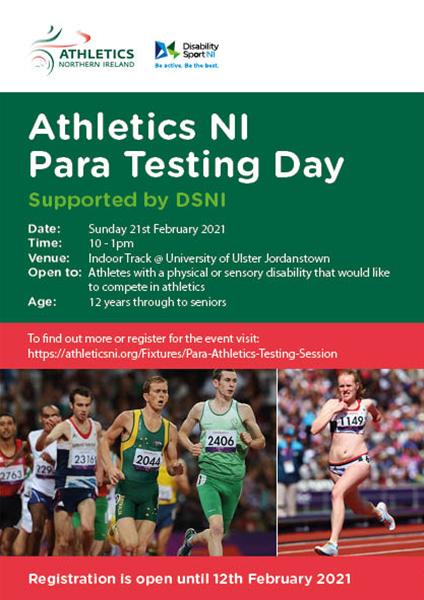 The Testing Day is subject to the current Covid-19 restrictions and may have to be rescheduled.
Athletics NI will be hosting a Para Athletics Testing Session on Sunday 6th June for athletes with a physical or sensory disability that would like to take part in/ compete in athletics, including those who wish to receive official classification. The event is open to athletes age 12 to senior.
Time: 2pm- 5pm
The tests are likely to include (but could change)
Acceleration 20m
Maximum velocity-electronic timing-flying 10m
50m sprint
Reactive strength index on force plates
Countermovement jump on force plates
Left to right side deficit tests on plates also
The above will consider general elastic and explosive qualities for sprints throws and Long Jump. We will also look at external shoulder rotation and thoracic rotation which might help find those with unique qualities for throws. Two additional tests will also be Med Ball chest push and standing long jump.
Wheelchair tests will vary from above tests. If you are coming to try wheelchair racing and have your own helmet please bring this with you as well as thin gloves (like gardening gloves). Equipment i.e. wheelchairs will be cleaned between use.
For more information on the Para Athletics Sessions and Classification please check out website, or alternatively you can email our Para Athletics Development Officer Heather Ardis:
https://athleticsni.org/Athletes/Para-Athletes