Belfast joins World Athletics Stage in April 2023
10 March 2023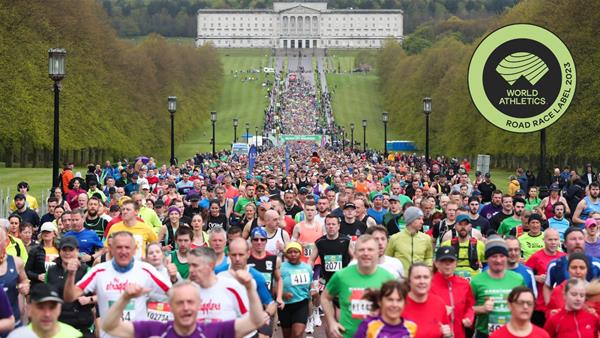 The Mash Direct Belfast City Marathon joins prestigious World Athletics Label Road Race Series to become the first marathon event in Ireland to join the prestigious World Athletics Label Road Race Series – which gathers the world's leading road races, whose organisers have met strict criteria for excellence in planning and delivery.
The organising committee are thrilled to be amongst 238 events across the globe, including major cities like Tokyo, Houston, Dubai, London, Barcelona, Istanbul and Buenos Aires.
As a World Athletics Label Road Race, organisers expect to see an increase in international athletes travelling to Belfast and surrounding areas with family and friends in tow, contributing to the economic impact to the City. This boost to local tourism comes at a pivotal time as the economy strives to recover after a difficult period through the COVID-19 pandemic.
Organisers are delighted that the label will highlight to local runners and international runners alike, that Belfast City Marathon is a quality race and a must-do run that runners can get excited about. The achievement will attract a higher calibre of elite runners, creating an international competitive platform to further elevate the status and recognition of the event around the world – likewise offering local runners with the opportunity to compete with other athletes whilst learning from their experience at their home marathon.
John Allen, Chairman of the Belfast City Marathon organising committee, commented:
"We are extremely excited about the prospect of joining the World Athletics Label Road Race Series. This is a great accolade for what is the largest mass sport participatory event in Northern Ireland, and a sign of exciting things to come for athletics in Northern Ireland. We're looking forward to Sunday 30th April to celebrate achieving this label, and what is sure to be a fantastic event."
After celebrating its 40th anniversary in 2022, the organising committee are looking forward to welcoming over 15,000 participants to the streets of Belfast once again on Sunday 30th April. The Belfast City Marathon is renowned for the incredible local support runners receive as they test themselves over 26.2 miles. The popularity of the event has grown exponentially in recent years and it has now become one of the leading marathons in the UK and Ireland.
Final entries for the 2023 event close midnight 7th April. For more information and to register for the 2023 events, visit belfastcitymarathon.com and stay in touch Facebook / @MarathonBelfast Twitter / @marathonbcm Instagram / @belfastcitymarathon
The Mash Direct Belfast City Marathon is sponsored by Mash Direct, Athletics Northern Ireland, Belfast City Council, Daily Mirror, Better, Belfast Live, Cool FM, Downtown Radio, Downtown Country, Translink, Deep RiverRock, CompareNI.com, Tayto, Charles Hurst and Linwoods. The official charity partner is Air Ambulance Northern Ireland.