Athletics NI Saddened by Loss of Official Jan Brodie
05 January 2022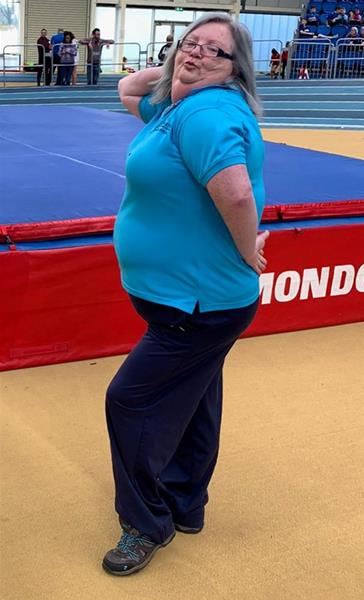 It is with great sadness that Athletics NI has heard of the death of one of its most popular officials, Jan Brodie, after a long battle against cancer.
Jan joined husband Bob on officiating duties over 12 years ago and quickly made her mark as a regular feature on the infield progressing to become a UKA Level 3 Field official. Both as a volunteer and an official Jan was just as happy officiating at a small throws event in Bangor or at a major event in Britain, including the Commonwealth Games in Glasgow.
Her outgoing personality made her stand out from the crowd and everyone was greeted as "my wee love" and treated to a warm hug.
It was not only her officiating talents which were recognised, but her constant generosity to others, whether by catering for the annual Officials Bar-B-Q or collecting everyone's bric a brac which she and Bob sold at car boot sales in aid of charity. Indeed, even during the last few months of her illness, she was thinking of others by shaving her hair in aid of the Macmillan Cancer Support charity.
Jan lived her short 60 years to the full. Indeed less than a month ago she and Bob were enjoying the sunshine and Sangria and acting as unofficial tourist agents for Santa Cruz de Tenerife on a whirlwind pre-Christmas holiday. The obvious joy expressed on her Facebook postings made the news of her death on Tuesday all the harder to accept. On the 22nd December she posted a cartoon of an elf asking Santa "Dear Santa who is Janet"? Santa replied "Janet is not weird she is a limited edition!".
To husband Bob, all the family and her many 'official' friends we extend our deepest sympathy.