Athletics NI Seek Athletics 365 Tutors
21 May 2021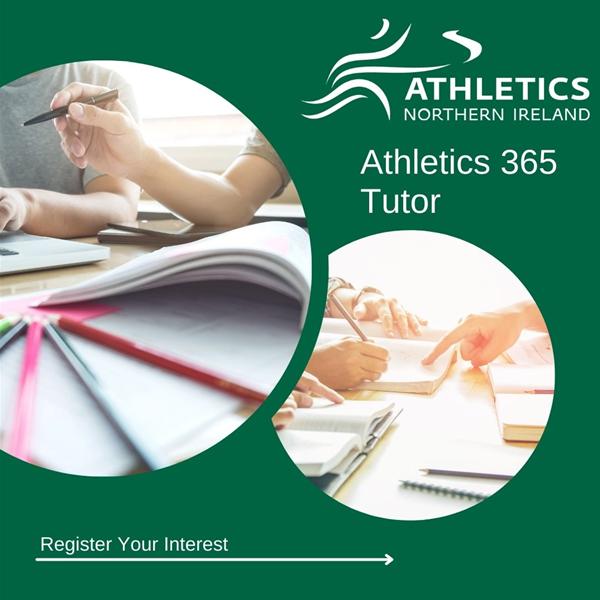 Athletics Northern Ireland are currently seeking talented, innovative and ambitious individuals to join our team of coaches and tutors. Athletics NI is currently seeking expressions of interest for casual tutors for the following programmes:
Athletics 365
Athletics 365 is a curriculum of physical conditioning and technical run, jump, throw skills that has been developed by England Athletics and adopted by British Athletics across the home nations. Athletics 365, which is also supported by an app and videos, provides tiered progressions aimed at 8–15-year-olds. Progressions initially address the ABCs of movement (fundamentals aimed at 8-12 years) and these activities can be included in multi-sport environments.
Athletics NI support and promote the use of the Athletics 365 curriculum in clubs and schools across the country and provide regular Athletics 365 workshops for club coaches, teachers and sports science students. To date, 400 coaches have attended an Athletics 365 workshop in Northern Ireland
This workshop will discuss the British Athletics Athlete Development Model . Athletics 365 focuses on developmental age rather than chronological age and there will be a discussion on child maturation and how this should influence session content for 8–15-year-old athletes.
Through the supporting app, club coaches will be provided with a skills-based syllabus of progressive athletics activities. This will help to ensure a consistent approach to developing young athletes across Northern Ireland. Practical elements of the workshop will allow attending coaches to observe and take part in delivery of sample RUN, JUMP, THROW sessions. Topics included will be dynamic warm up, acceleration mechanics, maximum velocity running drills, jumping and landing activities, pull and push style throwing and hurdling techniques. Each activity is broken into nine progressive stages. There will also be a focus on age-appropriate physical conditioning.
Training days and orientation for all tutors who are successfully recruited will take place at the Mary Peters Track provisionally on Monday June 28th and/or Tuesday June 29th 2021. Tutors will be reimbursed for their time and expenses for the training with tutoring to begin in Summer 2021. New tutors will be begin as trainees until fully signed off. This process generally takes between 2 – 3 courses with tutors delivering various aspects of the course before being signed off to co-tutor or team-tutor. All tutors must be a minimum of Athletics Coach (or equivalent) qualified.
Tutors will be paid in line with current tutor rates. All tutors will be paid through the Athletics NI payroll.
By definition of casual work, Athletics NI is not obliged to offer any individual work at any time, nor are coaches obliged to accept any work offered.
If you are interested in applying for the above role, please complete the Expression of Interest form. For further queries, please contact Eilish Ward, Development Manager on Eilish.ward@athleticsni.org or 07917 901971. Closing date for acceptance of expression of interests is 5pm Friday June 4th 2021 with informal interviews to take place in June.