Belfast International Meet Celebrates Lady Mary Peters
31 May 2022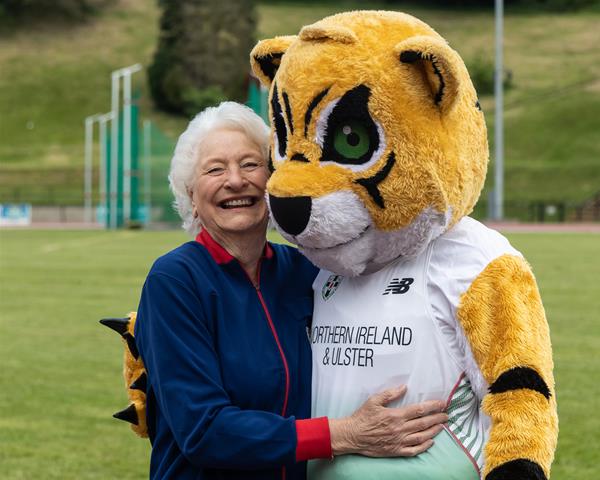 Athletes and spectators gathered at the Mary Peters Track on Saturday 28th May for the Belfast International Meet to celebrate Lady Mary Peters on the 50th Anniversary of her Gold Medal at the 1972 Olympics in Munich.
Earlier that week, primary school children enjoyed the sunshine at the Mary Peters Track for a Schools Celebration event, spelling out Mary P across the track, before taking part in a 60m sprint and relays. Each child received a special commemorative t-shirt and certificate for the event and a goodie bag provided by the Department of Communities.
Arriving in a bright orange sports car and driven around the track, Lady Mary was delivered to the Podium, were she said a few opening words, to kick off the action-packed day of athletics, only some eight months since the 2021 edition of the event.
The Special Olympics Athletics Club started the day's event with sprints races and turbo javelin throwing events. Each child or young person received a special t-shirt, goodie bag and certificate, which were presented by Mary Peters after her grand entrance.
First on the track for the Senior events was the Women's 400m Hurdles, where Tir Chonaill Ac's Lucy McGlynn set a new PB time of 1:00.86, followed by Lagan Valley AC's Laura Frey, also setting a PB time of 1:02.32, with club mate, Erin McMahon gaining 3rd place in a time of 1:07.05.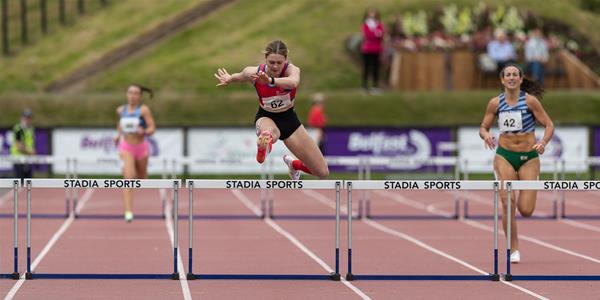 Next was an opportunity for some of NI's U15 athletes to take their place on the track, with the U15 Girls 100m 1st place going to Loughview AC's Freya Boyce in 12.79, 2nd place to Eadoin Lynch in 12.93 and 3rd place going to Lagan Valley AC's Anna Hogg in 13.05. First place in the U15 Boys 100m went to City of Lisburn Ac's Arnar Brynjarsson in 11.28, just behind his PB of 11.27. Second place went to North Down AC's Ryan Hamilton in 12.25 and third place was Orangegrove AC's Ben Sykes in 12.30.
In the Field, we had the Women's Hammer event, with Deeside AAC's Amber Simpson throwing 60.53m to take the lead, with Ireland's Michaela Walsh in 2nd place, throwing 57.01 and Lifford Strabane AC's Adrienne Gallen in 3rd place with a throw of 48.16m.
After the unfortunate Easyjet flight cancellations leaving athletes stranded in the airport, the Men & Women's Pole vault competition was combined with 3 men and 1 women jumping together. First place in the Men's competition was Mathew Callinan Keenan, clearing 4.72m, followed by Conor Callinan, clearing 4.52m to take 2nd place and Jamie Paul in 3rd place, clearing 3.72m. The lone woman in the field was City of Lisburn AC's Ellie McCartney, who cleared 4.22m, just shy of her Indoor PB of 4.24m.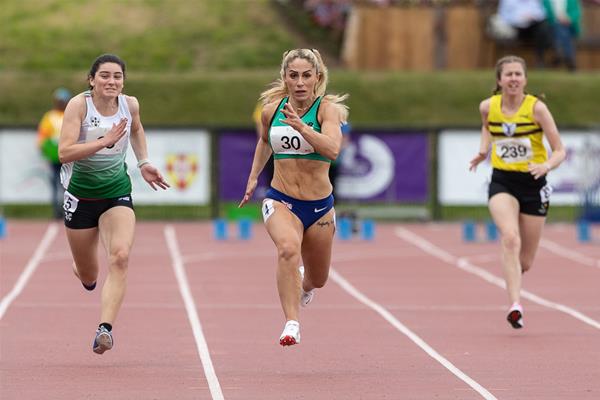 Back to the track, and it was time for the Ambulant Women's 100m, which saw Guidlford & Godalming AC's Ali Smith (T38) who finished in a time of 13.76 to take 1st place, with North Down AC's Eve Walsh-Dann (T38) taking 2nd place in a time of 14.42 and North Belfast Harriers' Darragh Andrews (T20) in 3rd place in 16.89.
DSD AC's Jennifer Hanrahan took 1st place in the Women's 100m A race, in a time of 12.07, with Iceland's Tiana Whiteworth in 2nd place in a time of 12.10 and Olympian Youth & AC in 3rd place in a time of 12.45.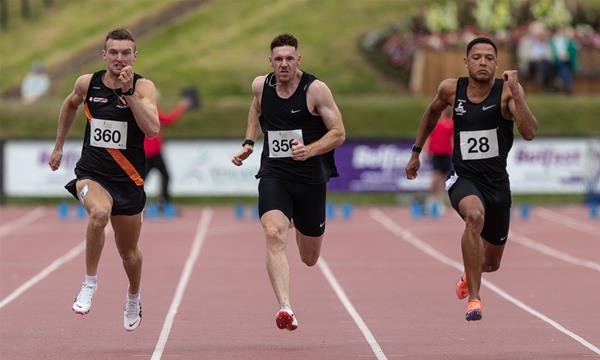 The Men's 100m A race was a hotly contested affair, with Tokyo Olympians Leon Reid and Marcus Lawler going head-to-head. The final result was Menapians AC's Leon Reid in 1st place in 10.62, while Shaftesbury Barnet Harriers' Jordan Watson-Brown claimed 2nd in 10.69, with Marcus Lawler finishing off the podium spots in a time of 10.78. The three men would compete later in the day in the Men's 200m, where podium places would switch, with Ireland's Marcus Lawler in 1st place in 21.05, Jordan Watson-Brown in 2nd place with a new PB of 21.10 and Leon Reid in 3rd place in 21.25.
As part of the Belfast International, the top 20 Boys and Girls from the Flahavan's Primary Schools Cross Country League, run a 1000m event, as the Flahavan's Squad, which for many is their first ever track race. Megan Mullally came first in the girls event in a time of 3:18.29, with Maisie McVeigh in 2nd in 3:21.07 and Lily Foster in 3rd in 3:22.61. For the Boys, it was Caolan McGarry in 1st place in a time of 3:09.76, with Fionn McCay in 2nd in 3:14.64 and Cormac Leheney in 3rd place in 3:15.23.
Out on the field, we had the Women's High Jump, with NI Commonwealth Games athlete, Sommer Lecky (Finn Valley AC) soaring over 1.83m to take the top spot. In a joint 2nd place was Thames Valley Harriers' Pippa Rogan, who cleared 1.77m and Daena Kealy, who also cleared 1.77m; both women equally matched on count back.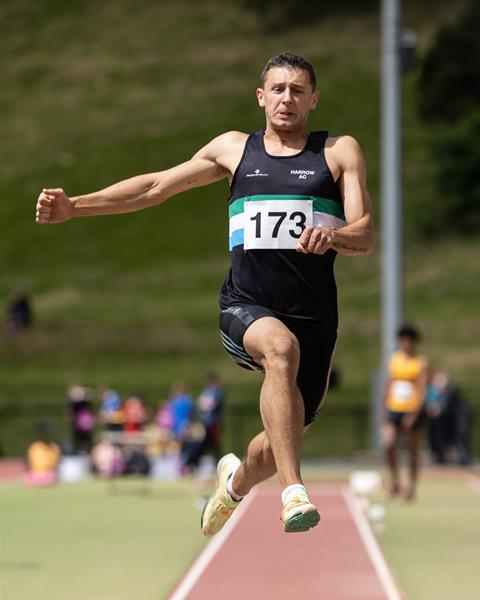 Harrow Ac's Jack Roach won the Men's Long Jump competition with a jump of 7.69 (w/s +1.96), with Leevale AC's Reece Ademola in 2nd place with a jump of 7.38m (w/s -1.3) and Conliffe Harriers' Keith Marks McCabe in 3rd place with a jump of 6.92 (w/s -0.7).
DSD AC's Kate Doherty set a new PB in the Women's 100m Hurdles, with a time of 13.46 to take 1st place. In 2nd place was NI's Megan Marrs (Windsor Slough Eton & Hounslow AC) in a time of 13.77 and in 3rd place was Niamh O'Neill in 14.32.
Next on the track was the Women's 200m races, with Maltese Olympian, Charlotte Wingfield finished in 24.50 to take 1st place, with DSD AC's Jennifer Hanrahan in 2nd place in 24.95 and City of Lisburn AC's Jenna Breen in 3rd place in 24.99.
In the Women's 1500m, Carla Sweeney took 1st place in 4:26.46 following a well controlled race against UCD AC's Ellie Hartnett in 2nd place in 4:27.44 and Dromore AC's Rebekah Osborne in 3rd place in a PB time of 4:30.34. The Men's 1500m, originally having been split into two races, was then combined, with Kieran Kelly of Raheny Shamrocks AC winning in a time of 3:47.99, just ahead of Annadale Striders' Neil Johnston in 3:49.82 and Finn Valley AC's Sean McGinley in 3:51.49.
A regular fixture of the Belfast International, the Mike Fulton Memorial Mixed Discus competition, held in the Mike Fulton Discus cage, saw Niamh Fogarty throwing 50.85m to take 1st place overall, with Clonliffee Harriers' Eoin Sheridan in 2nd place with a throw of 48.54m and Anna Gavigan in 3rd place, throwing 42.30m.
Torque Racing Club's Mark Millar, recently selected for this summer's Commonwealth Games in Birmingham, competed in the 800m Wheelchair event, against team mate Harry Turkington, to take 1st place in a time of 1:54.56, with Harry in 2nd place in 2:32.18.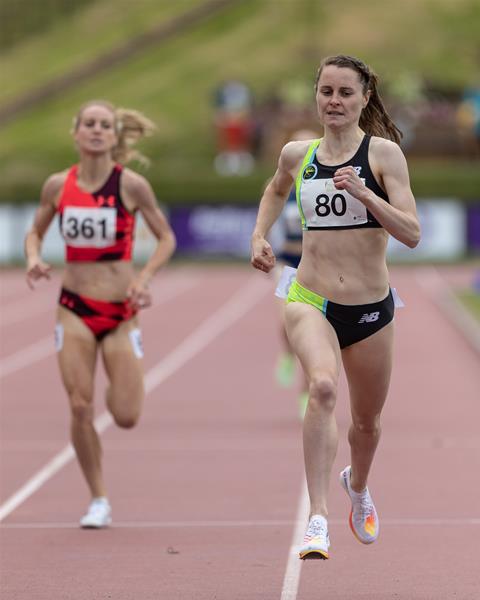 Team New Balance and Tokyo Olympian, Ciara Mageean won the Women's 800m in a time of 2:01.34, with Herne Hill Harriers' Katie Snowden hot on her heels in 2nd place in a time of 2:02.34, and Claire Mooney in 3rd place in 2:04.96. India's Mohammed Afsal Pulikkalakath won the Men's 800m A race in a time of 1:48.24, with Kevin McGrath closely behind in 2nd place in 1:48.55 and Annadale Striders' Conall Kirk in 3rd place in 1:49.15.
Next on the track was the U17 events, with invited athletes from across NI & Ulster getting their chance to compete in the 800m events. First up were the U17 Boys with Ben Warnock claiming 1st place in 2:01.77 and Enniskillen Running Club's Frank Buchanan in 2nd place in 2:02.17, with City of Derry Spartans, Louis Cole in 3rd place in 2:03.08. For the Girls race, Ballymena & Antrim Ac's Eobha McAllister took 1st place in 2:21.64, with Lagan Valley AC's Lily Rimmer in 2nd in 2:24.32 and North Down Ac's Lucy Cheatley in 3rd place in 2:28.14.
Finn Valley AC's Lauren Callaghan jumped 5.92m (w/s -1.5) to win the Women's Long Jump with KiiKii Brown (Leeds City AC) in 2nd place, jumping 5.74m (w/s -0.2) and City of Lisburn AC's Erin Fisher in 3rd place jumping 5.58m (w/s +0.8).
The Men's Hammer was won by Liverpool Harriers' Osian Jones, throwing an impressive 70.02m, with Clonliffe Harriers' Simon Galligan in 2nd place, throwing 60.29m and Lifford Strabane Ac's Brendan O'Donnell in 3rd place with a throw of 58.82m.
On the track, it was time for the Women's 5000m event, with Sorcha Nic Dhomhnaill taking the lead in 15:58.52 and Ide Nic Dhomhnaill in 2nd place in a PB of 16:03.44. Mid Ulster Ac's Grace Carson came 3rd in a time of 16:12.81.
The 400m events had four athletes apiece, with NI-Canadian, Ryan Hegarty winning the Men's in a time of 49.44, with Willowfield Harriers U20 athlete, Jakob Hamilton in 2nd place in 50.48, Letterkenny Ac's Eoin Kelly in 3rd place in 51.77 and Cathal Ryan in 4th place in 53.69. The Women's event went to Enfield & Haringey AC's Mary Abichi in 54.80, with North Down AC's Rachel McCann in 2nd place in 56.76, Tir Chonaill Ac's Lucy McGlynn in 3rd place in 57.04 and Hollie Kilroe in 4th place in 5723.
The final field event of the day was the much anticipated Men's Javelin competition, with some of GB, NI and Ireland's best throwers set to compete. Birchfield Harriers' Benji Pearson threw 67.82m to claim the top spot, from Lifford Strabane AC's Gareth Crawford, who threw 66.35m to take 2nd place. In third place was Conor Cusack who threw 64.39m.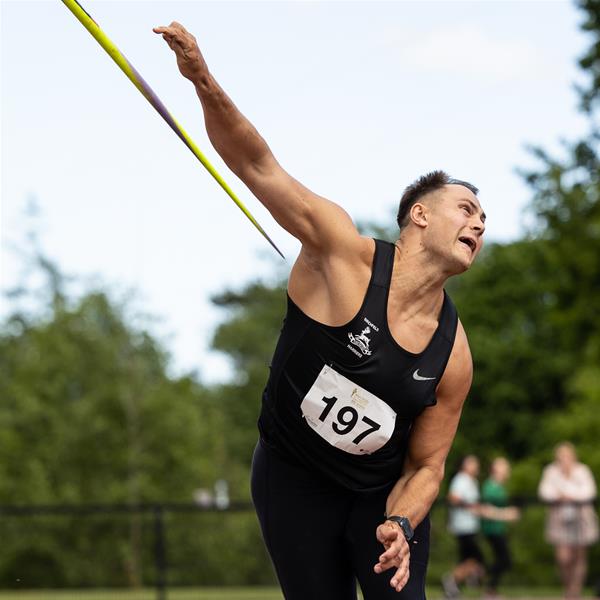 The day's events were rounded out by the two 3000m Team Races, with NI club teams, competing against International and local individuals, for those top spots. In the Women's event, it was an Annadale Striders one and two, with Hannah Gilliland in 1st in 9:44.68 and Robyn Mckee in 2nd in 9:54.68. They were followed by Ballymena Runners' Eimear Nicholl, who claimed 3rd place in 10:08.96. In the Men's event, Libya's Sawan Barwhal claimed 1st place in 8:08.22, with local athlete, John Paul Williamson in 2nd place in 8:37.13 and Annadale Striders' Johnathan Spratt in 3rd place in 8:37.33.