Flahavans Primary School Cross Country League Athletes Race to the Top
08 March 2023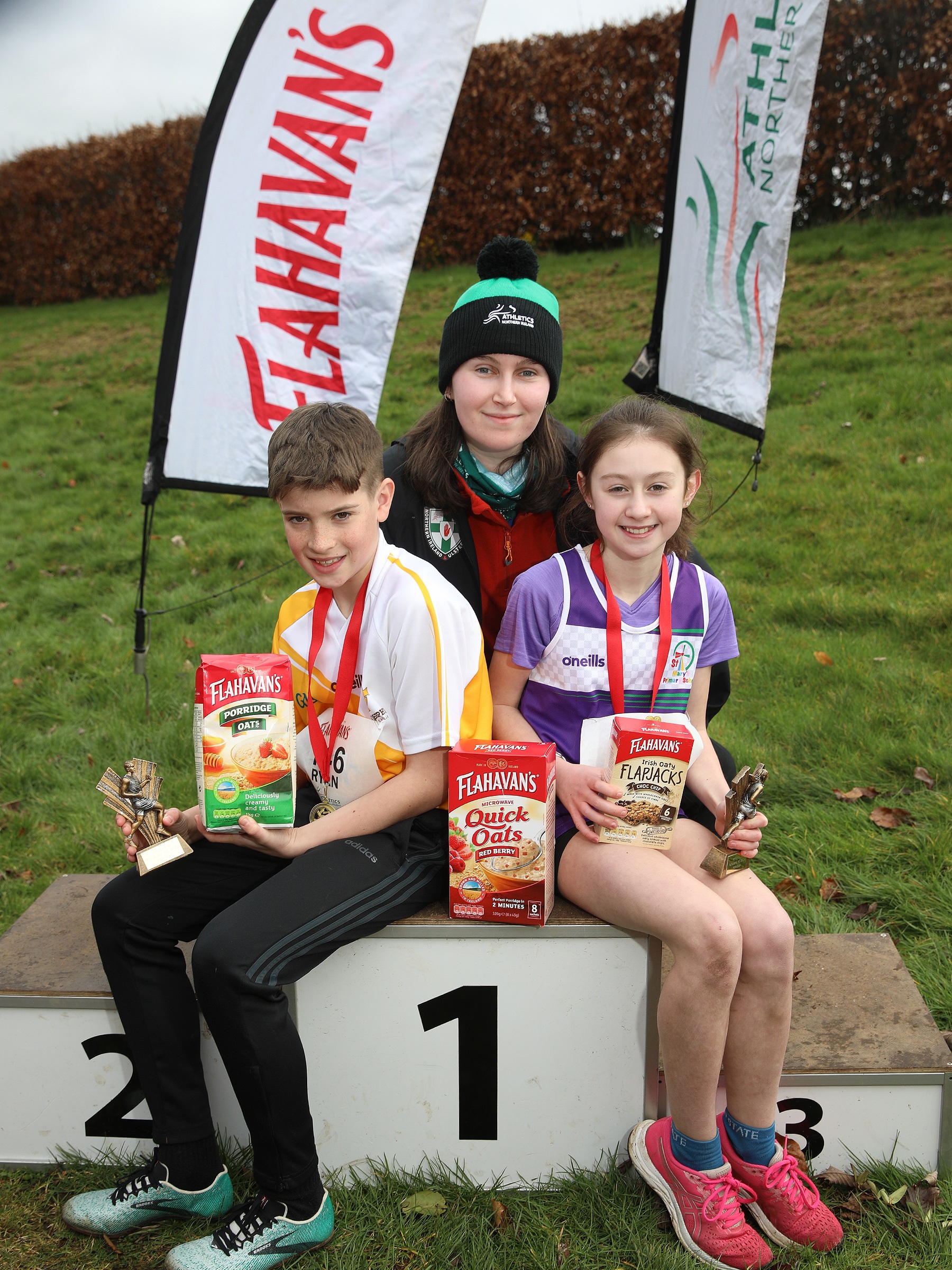 Darcie Clarke from St Mary's Primary School, Strabane and Ryan Thornton from St Joseph's Primary School, Newcastle have been crowned winners of the Athletics NI Primary School Cross Country League, sponsored by Flahavan's after securing first place in the girls' and boy's races respectively. Over 350 local athletes aged 8-11 years old competed in the final which was held at Mallusk Playing Fields on Friday 3rd March 2023.
Following a competitive final, the top 20 girls and top 20 boys are now invited to join the Flahavan's Athletics Northern Ireland Junior Endurance Squad. The accolade includes participating in regular training sessions over a 12-month period to support the personal development of the talented young athletes.
This year, the league hosted over 4,000 competitors aged between 8-11 years old with over 350 athletes from over 50 schools across Northern Ireland making it to the final. Methodist College, Belfast and Kings Park Primary School were recognised as the overall joint winners of the best-performing girls' school while Stranmillis Primary School, Belfast was recognised as the overall best-performing boys' school at the event.
Flahavan's Primary School Cross

Country Final- Girl's Winner

Flahavan's Primary School Cross

Country Final- Boy's Winner
Speaking at the final, Shauna Bratten, Marketing & Events Manager at Athletics NI stated,
"Congratulations to all the young athletes who took part this year, they should be so proud of themselves as the talent shown this year has been extraordinary. We are thrilled to see the number of young athletes who use this league as an opportunity to start their athletics career and it's great to watch the league grow stronger in numbers throughout the years."
The 2022-2023 league also marks the twelfth consecutive year of the Flahavan's sponsorship which aims to encourage young people to lead an active and healthy lifestyle.
Commenting on the sponsorship Alice Quirke, Brand Manager for Flahavan's, added:
"We are delighted to have sponsored this fantastic initiative for past 12 years. Every year, it is great to see the level of grassroots athletic talent – each and every pupil striving to do their best - they should all be really proud of themselves!
"Maintaining a nutritious and healthy diet is key for these young athletes especially when they are training and competing. Congratulations to the winners Darcie and Ryan, and all those who took part this year – it's an amazing accomplishment in itself to get to the final, and all the best as they progress in their sport."
To learn more about Flahavan's full range of oat-based products and how you can fuel your run with tasty recipes, keep up to date by following @Flahavans on Facebook and Instagram.
Flahavan's Primary School Cross

Country Final- Top Three Girl's Teams

Flahavan's Primary School Cross

Country Final- Boy's Team Winner