Irwin Smashes NI Half Marathon Record
30 August 2023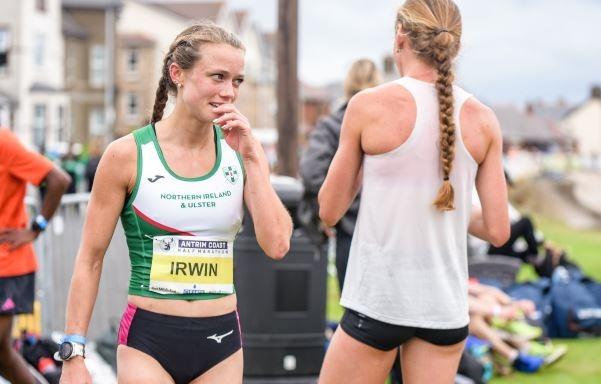 This year's Antrim Coast Half Marathon had another successful event with the Classic Street Mile taking place last Saturday (26th August) and the Half Marathon last Sunday (27th August). With Hannah Irwin running 71.04, smashing the NI record.
In the women's race, Hannah Irwin (Cambridge & Coleridge) had an outstanding performance being the 5th finisher in 71:05, breaking the NI record previously held by Letterkenny AC's Ann Marie McGlynn, and running a PB taking over 2 minutes off her previous PB. The time also meets the standard for the World Half Marathon Championships, marking an excellent comeback for Hannah after the injury she sustained from the 2022 Commonwealth Games in Birmingham.
Noeleen Scanlan (Letterkenny AC) was the next athlete from the NI & Ulster team home in 76:34 and 19th women. Nakita Burke (Letterkenny AC) started the race but unfortunately had to pull out.
On the men's side, Olympian Kevin Seaward (St Malachy's AC) was the first finisher from NI & Ulster team, running 64:33 being the 15th through the line. With fellow NI & Ulster team mate Michael Fox (Armagh AC) finishing 44th in 68:44.
The men's race, Daniel Mateiko (Kenya) smashed the Antrim Coast Half course record and is the current world lead, breaking the tape in 58:36. In 2nd was Jemal Yimer (Ethiopia) in 58:38, who won the event the previous two years running. And 3rd was fellow Ethiopian Nibret Melak who ran sub 60 minutes in 59:49.
Mestawut Fikir (Ethiopia) won the women's race in 66:44, with a PB taking over six minutes off her time. Evaline Chirchir (Kenya) running 67:38 for 2nd. With German athlete Fabienne Konigstein running 70:31 (PB) for 3rd in her second half marathon.
The men's category for the Classic Mile saw Tom Fleming (Loughview AC) break the tape in 4:42, followed by Rhys McManus (Lagan Valley AC) in 4:54 and Duncan Corrie (Willowfield Harriers) in 4:55 who was 3rd. The female winner was Elaine Moorse (East Coast AC) in 5:46, Dione Sloot ran 6:31 for 2nd and Yuki Mizuno in 7:31 placing 3rd.
The Kids Mile race saw Charlie Wilson (East Coast AC) who was the first boy through the line in 5:21, Ollie Hanna (Loughview AC) 5:30 for 2nd and Tom McLoughlin (North Belfast Harriers) 6:33 for 3rd. The 1st girl to finish the Kids Mile was Olivia McCusker (Loughview AC) in 5:34, just behind her was club mate Erin Han in 5:35 and Brianna Gregg (Newry AC) in 5:44 for 3rd.