Marathon Potential Sarah Lavery Blog
20 July 2020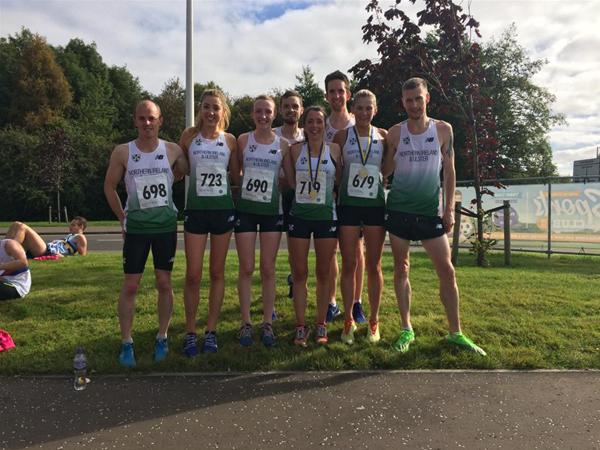 All runners will remember their first experience of racing. Mine maybe came earlier than some. My twin sister, Helen, and I had just started secondary school and I convinced her to join the after schools athletics club.
We went a couple of times and enjoyed being out running around the schools pitches. Next thing we knew we were lining up for our first cross country race. I will never forget standing beside Helen in the freezing cold Lady Dixon Park in our blue shorts and white polo shirts thinking to myself "how on earth did we end up here?"!
The gun went and off we took not knowing what to expect. I crossed the line in 3rd place with Helen close behind. I surprised everyone that day, including myself! This was the first time I experienced that feeling – legs, heart and head moving in perfect harmony. From that moment running was something I loved and that feeling was something I'd hope to experience again in my life.
Fast forward about 15 years and I am privileged to have become part of the ANI Marathon Potential Programme. I am humbled to have been in the presence of and been able to learn from past, present and future Olympic athletes. I have gained a huge amount of knowledge, been given so much advice and been provided with incredible opportunities during my time in the group. At the beginning of March I took part in the Vitality Big Half Marathon in London. It was probably the best race of my life so far and I was delighted to come away with a personal best.
A few weeks after we can home from London the lockdown really started here in Northern Ireland. Running changed a lot for me in this time. As a Radiographer working in an NHS hospital my experience of COVID 19 is different from most. I work in a Radiography department where high volumes of patients who have the virus or are suspected to have the virus are imaged daily. In the initial couple of weeks things in work were ever-changing, there were anxieties around PPE and we were being asked to cover more shifts. Running took a back seat during this time. I felt myself getting drawn in to the turmoil of the pandemic.
One Monday evening after a long day in work, I willed myself out of my house to go for a steady run. I arrived home and barely remembered the run at all. I had experienced the feeling I had felt during that first race in Lady Dixon Park. I felt everything in the world come to peace as my legs, heart and head moved me forward through my usual Monday route. I was no longer focussed on running a certain pace or hitting certain splits but instead I was running for that feeling of normality in a world that had rapidly moved away from 'normal'. Without realising it, running quickly became my crutch during the difficult times. It provided me with time to think things through, to deal with the goings-on of the day and to focus on the things I am thankful for every day.
As runners we sometimes get lost in the training programme or the packed competition schedule. I am thankful that during these times we have been afforded to go back to basics with running and re-find that love and search for that feeling again. Through all of this I am grateful to the ANI Marathon Potential Programme athletes and coaches for their companionship and encouragement. I am delighted to be back training safely with my running family and I am excited to be able to compete together soon again!
Sarah Lavery