NI & Ulster Athletes Perform on the World Stage in Budapest
29 August 2023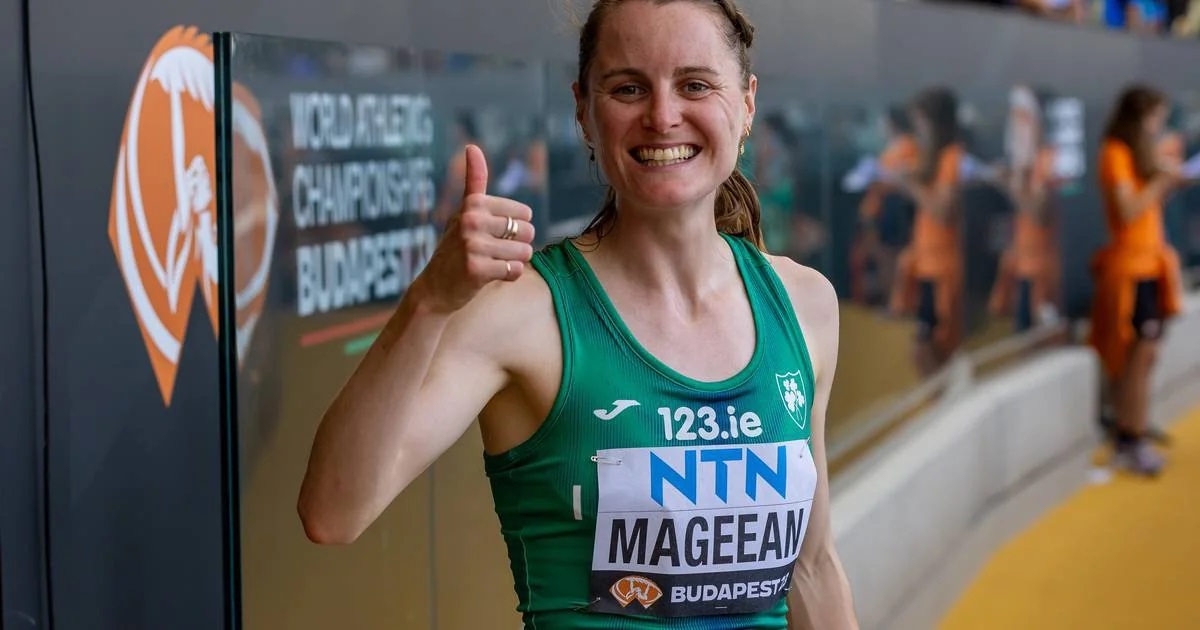 Ciara Mageean (City of Lisburn AC/ Helen Clitheroe), ran the race of her life, setting a new NI & Irish record in the Women's 1500m at the World Athletics Championships in Budapest.
It was a nail biting final, with Ciara showing her form on a global stage to cement her place as 4th in the world. The Portaferry woman was ranked 9th going into the event, based on her season's best (SB), but ran a tactical race to ensure she was in contention for the medal when the bell rang.
Mageean held onto the leading pack of Kenya's Faith Kipyegon, Ethiopia's Diribe Weltji and The Netherlands' Sifan Hassan going into the final straight, where they just pulled away.
It was a superbly strong race from the European and Commonwealth Silver medalist.
Commonwealth Silver medalist, Kate O'Connor (Dundalk St Gerards/ Michael O'Connor) had an intense performance over the two day Heptathlon competition. Starting strong in the 100m Hurdles, Kate set a personal best (PB) time of 13.57 (w/s -1.1) to finish 3rd in her heat and gain 1040 points. Moving swiftly onto the High Jump, Kate set a season's best clearly 1.80m to gain a further 978 points. In the Shot Put groups, Kate threw 13.47m to gain an additional 759 points before moving onto the final event on Day 1, the 200m where she set another SB with a time of 24.78s (w/s -0.1) to finish 4th in her heat and add another 907 points, ending day 1 with a total of 3,684.
On Day 2, Kate started well in the Long Jump, jumping 5.74m to gain 771 points, before moving onto one of her stronger events, the Javelin. Kate threw 46.07m to finish in 8th place in her group with an extra 784 points, meaning she went into the final 800m event with a total of 5,239 points. Finishing as she had started, Kate set a SB time of 2:14.06, to finish 4th in her heat, leaving the 22-year-old with a total of 6145 points and 13th place in the World.
European U20 Silver Medallist, Nick Griggs (CNDR Track Club/ Mark Kirk) ran in the Men's 1500m, running a mature race for all his 18 years. The mid-ulster native, finished in 3:40.72 in 12th place in his heat, missing out on qualification for the semi-final, but gaining valuable experience at his World Championship debut.
Mark English (Finn Valley AC/ Feidhlim Kelly) was in the Men's 800m heats where he ran 1:45.71 (SB) in 4th, qualifying for the semi-finals. The Donegal athlete ran 1:45.14 (SB) crossing the line in 7th. Unfortunately, he didn't make it through to the final but had a successful championship getting two SBs.
Club mate Brendan Boyce (Finn Valley AC/ Rob Heffernan) was competing in the Men's 35km Race Walk were he got a SB of 2:27.26 and came 24th.
Kelly McGrory (Tir Chonaill AC/ Drew & Hayley Harrison) was in the Women's 4x400m Relay were the team ran 3:26.18 (SB), coming 4th in their heat and progressing onto the final. In the final the team ran 3:27.08 finishing 8th in the world.
Another successful championship for all our NI & Ulster athletes.
Full results can be found here.