NI Athletes Shine at International Competitions
20 July 2021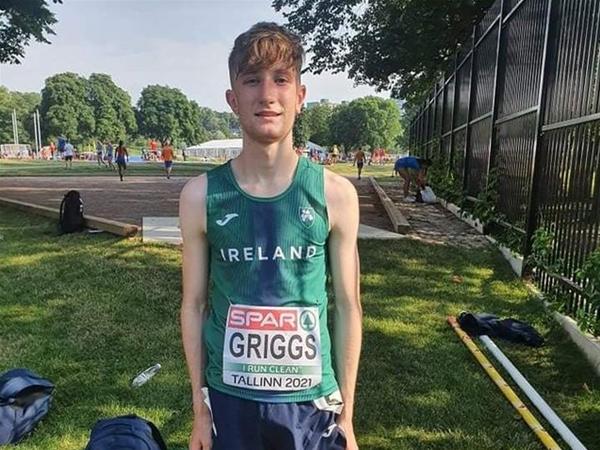 A number of NI & Ulster athletes were competing overseas this weekend, picking up medals and personal bests in England, Tallinn, Malta and Flanders.
European U20 Championships
Northern Ireland's Junior athletes competed in Tallinn, Estonia at the European U20 Championships, which for many was their international debut for Ireland.
Mid Ulster AC's Nick Griggs (Coach: Barrie Holmes) who has rocketed onto the middle-distance scene this year took an emphatic gold in the Men's 3,000m final, with the 16-year-old racing a very controlled race with a storming sub two-minute last 800m, to finish in a time of 8:17.18.
St Malachy's AC's Callum Morgan (Coach: Mark Kirk) ran a brave race in an excellent 5,000m field, finishing in a time of 15:15.52, to take 21st place while Lagan Valley AC's Aoife McGreevy (Coach: Mark Kirk) ran a competed in the Women's 5000m, in Final A finishing in a time of 17:20.49 for 22nd place overall. The tough conditions, especially for the longer distances will have provided a fantastic international learning experience for all the junior athletes
Orangegrove AC's Adam Sykes (Coach: Gillian Sykes) joined the Irish 4x100m Men's relay team of Cillian Griffin; Israel Olatunde and Charles Okafor, running the final leg in an impressive time of 9.77, to take the team to an overall finish time of 41.06. It offered a brilliant championship experience for the young sprinters, but ultimately it was not enough to advance to the evening's final.
England Senior Champs
North Down AC's Eve Walsh-Dann (Coach: Roger Sexton) won her heat at the England Athletics Senior & Disability Championships this weekend, in the Ambulant 100m. The T38 athlete finished 1st in Race 1 in a time of 14.90 to qualify through to the finals where she finished top of her heat in a time of 14.69 (w/s -0.7).
Ballymena Runner's James Hamilton (Coach: Mark Kirk) also had a fantastic weekend bringing home silver medals in the Ambulant 1500m and 400m events. The T20 athlete, crossed the 400m finish line in 55.67 for 2nd place, before claiming 2nd in the 1500m in 4:12.32.
City of Lisburn AC and Windsor Slough Eton and Hounslow's Megan Marrs (Coach: Alex Nwenwu) took silver in the 100m Hurdles, finishing her heat in a time of 13.58 (w/s 1.4) to qualify through to the finals, where she finished in a time of 13.52 (w/s 1.4) to secure 2nd place behind Alicia Barrett of England.
Full results: https://athletics-uk.org/england/seniors/
Malta EAP
A number of athletes travelled to Malta to compete in the European Area Permit event this weekend, winning medals and PBs.
Crusaders AC's Adam McMullen came 1st in the Men's Long Jump, with a distance of 7.44m (w/s 4.3) as well as picking up a PB in the 100m, in a time of 10.63 (w/s 1.7). City of Lisburn AC's Ben Fisher (Coach: Lukasz Zawila) also jumped 7.44m in the Long Jump, a new season's best, to claim 2nd place on count back.
City of Lisburn AC's Lauren Roy (Coach: Adam McMullen) set a new PB in the 100m with a time of 11.83 (w/s 1.4) for 1st place and Ballymena & Antrim AC's Michael McCauley set a new wind assisted PB in the 100m with a time of 10.58 (w/s 2.1) for 1st place and a 1st place in the 200m with a time of 21.65.
City of Lisburn AC's Erin Fisher (Coach: Lyn Fisher) placed 3rd in the Women's Long Jump with a PB of 5.76m (w/s 2.0) while Athletics NI Unattached athlete, Eoin Duffy (T47) finished the 100m in a time of 11.90 (w/s 1.7).
Full results: https://malta.opentrack.run/en-gb/x/2021/MLT/malta-inter-meet/event/
Flanders Cup Meet
Athletics NI Unattached athlete Katie Kirk (Coach: Mark Kirk), clocked her third 800m 2:03 time in 10 days at the recent Flanders Cup Meet, finishing 3rd in her heat in a season's best time of 2:03.13, to finish 5th overall.
Full results: https://www.atletiek.nu/wedstrijd/main/35027/
Milton Keynes 5000m Track Meet
City of Derry Spartans' Conor Bradley (Coach: Teresa McDaid), posted a new PB time at the Milton Keynes 5000m Track Meet finishing in 3rd place in a time of 13:50.05. Bradley ran a very controlled race, with a fast finish in the last lap to earn his podium place.