New Blended Learning LiRF Courses Now Available
17 December 2020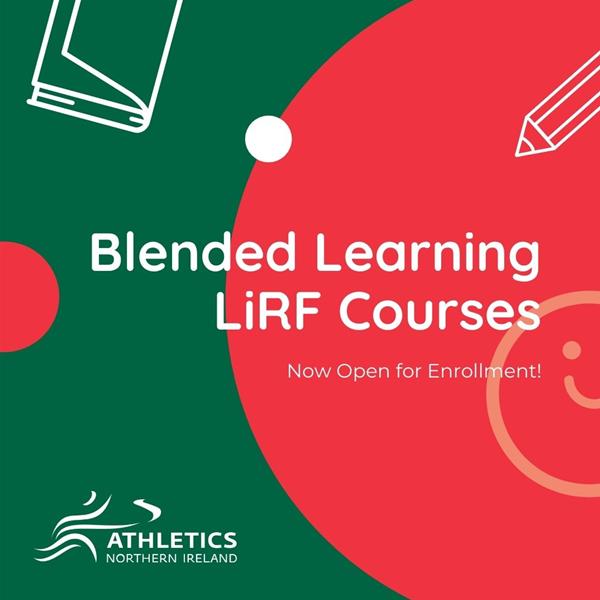 The Blended Learning Leader in Running Fitness (LiRF) course is now open for booking.
The Leadership in Running Fitness (Online and Practical) course is designed to prepare you to provide a safe and enjoyable running experience for young people aged 12 years and older, and adults of any ability.
The LiRF Award provides prospective run leaders with an introduction to running and fitness and focuses on the introduction of fundamental movement skills that underpins running activities.
The course consists of a series of Online Learning Modules and a Practical session (Half Day face to face delivery).
The online learning modules will be self-guided, meaning that there is no tutor present and candidates work through the modules independently before attending a practical delivery session. Athletics Northern Ireland are one of the first Home Countries to trial this blended learning approach of online and face to face delivery and we are looking forward to seeing our coaches and leaders engage in innovative approaches to learning.
The Practical session will look to apply the theoretical knowledge covered in the online modules. This session will also provide an opportunity to practice leading mixed ability groups effectively, exploring the How-to-lead skills, components of a session and the running technical template. There is no assessment element.
Places are limited to 28 attendees per course which will be allocated on a first come first served basis. These courses will follow current social distancing guidelines as set by the Northern Ireland Executive at the time of delivery.
We currently have half day practical sessions running on the following dates:
Saturday 20th February 2021 (9am-12pm) at Malone Sports Facilities, Dub lane Register
Saturday 20th February 2021 (1pm-4pm) at Malone Sports Facilities, Dub Lane Register
For more information please contact Coach Education Administrator - Amy Foster amy.foster@athleticsni.org