Northern Ireland and Ulster Senior Championships
30 July 2021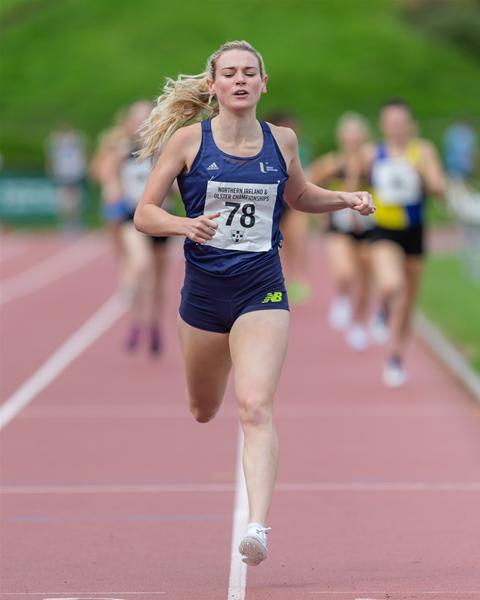 Athletes from across Northern and Ulster will compete at this weekend's NI & Ulster Senior Track and Field Championships against their Irish and GB counter parts, amid the buzz of the Tokyo Olympics.
Entries have hit an all time hit with over 450 athletes from across Northern Ireland, Ireland and some from Great Britain travelling to the Mary Peters Track on Saturday 31st July to take part in another fantastic athletics championship. With such high numbers, competition will be fierce, as athlete compete for spots in their respective finals as well as the prestigious podium places.
First on the track will be the Women's 800m semi-finals, with Commonwealth Games athlete, Katie Kirk (Unattached) with a PB of 2:02.63 and a season's best of 2:03.16 and Kelly Neely (City of Lisburn AC) with a season's best of 2:09.31 up against the in-form Maisy O'Sullivan of St Abbans AC, as well as upcoming athletes, Victoria Lightbody (City of Lisburn AC) with a PB of 2:09.49 and Cara Laverty (Finn Valley AC) with a PB of 2:10.77.
In the Men's 800m, Youth Academy athletes, Dylan McBride (City of Lisburn AC) with a PB of 1:51.61; Ryan Miskelly (Lagan Valley AC) with a season's best of 1:57.54 and fresh from representing Team Ireland at the European U20 Championships in the 5000m, Callum Morgan (St Malachys AC) will go head-to-head as they try to secure themselves a place in the final, with only two automatic qualification spaces from each of the three heats.
The 100m sprints will be no easy task, with athletes having to win their heat to secure an automatic qualifying place in the final. Paralympic Gold Medallist, Jason Smyth (Derry Track Club) will compete against Dean Adams (Ballymena & Antrim AC) and Orangegrove AC's Adam Sykes and Matthew Sykes for the top spot, while City of Lisburn AC's Lauren Roy, fresh from setting a PB at the recent Malta EAP Meet, will contend with Catherine McManus (DCH) and Sarah McCarthy (Mid Sutton AC).
The Women's 100m Hurdles has the potential to be a highlight of the day, with two of Ireland's top-ranked women, Kate Doherty and Lily-Ann O'Hare and former British Indoor Champion, Megan Marrs, all within a fraction of a second between them.
The attraction of the longer distance races can be seen clearly in the 5000m event, where there will be four races. The Women's event will see athletes such as Letterkenny AC's Nakita Burke with a PB of 16:24, compete alongside North Down AC's Jessica Craig, who has a PB of 16:18 on the road and 17:12 on the track as well as Mid Ulster AC's Grace Carson with a PB of 16:23 and Cambridge & Coleridge AC's Hannah Irwin with a PB of 15:56, who ran in Loughborough last weekend, finishing in 16:11, with Grace finishing in her PB of 16:23.
In the Men's A final, Hiko Tonoso Haso (Dundrum South Dublin AC) will be the favourite with his 13:31 PB but Ireland's most recent sub four-minute miler Brian Fay (Unattached) will have grown in confidence after his performance during the week, along with local athlete, Conor Bradley (City of Derry Spartans AC) who is sitting with a PB of 13:50.
The 1500m will see 5 races of athletes take to the track, with two-time trials for the Women and three for the Men's event. Roisin Flanagan (Carmen Runners) will be the favourite for the Women's event, with St Abban's AC's Maisy O'Sullivan adding the pressure. Fresh from super-fast miles on Wednesday night Neil Johnston (Annadale Striders) and Jonny Whan (Clonliffee Harriers) will be buzzing, along with Paralympian Michael McKillop and Adam Kirk-Smith, who will continue his comeback after recently winning Bronze at the Irish National Senior Championships in the 2000m Steeplechase, meaning he could also be in the mix for the 1500m.
The Field events are also going to be exciting to watch, with some of the island's best throwers and jumpers competing. The top two shot putters in Ireland, James Kelly (Finn Valley AC) and Gavin McLaughin (Finn Valley AC), are separated by just one centimetre. McLaughlin will be joined in the Discus by three of the top Junior Combined Event athletes in the UK in Jordan Cunningham (City of Lisburn AC), and the brothers Lexx (AthleticsNI Unattached) and Troy McConville (Windsor Slough Eton and Hounslow).
European Junior representative Casey Mulvey (Innyvale) will be favourite in Shot and Discus while Commonwealth games star Kate O'Connor (St Gerard's Dundalk) should dominate the Javelin.
In the jumps Irish Champion Adam McMullen (Crusaders AC) will have to fight off the young guns Ben Fisher (City of Lisburn AC) and Jonathan Cochrane (Ballymena & Antrim AC) while in the Women's event the Irish Gold Medallist Saragh Buggy (St Abban's AC) will be an incentive for the ever improving Erin Fisher (City of Lisburn AC).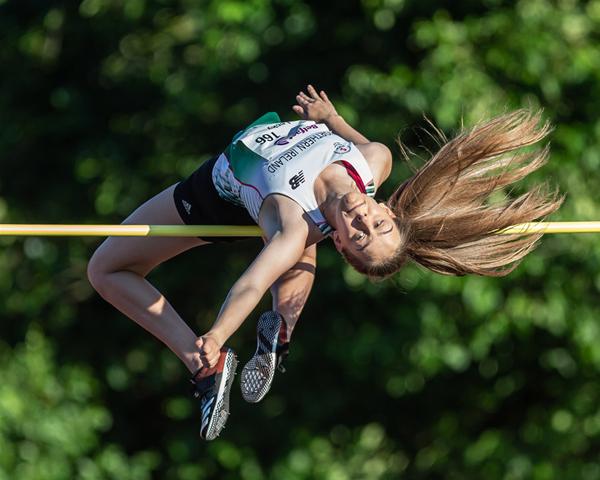 Sommer Lecky (Finn Valley) the World Junior Silver medallist will have to be on her top form to take the High Jump title with former champion Anna McIlmoyle (City of Lisbrun AC) and a rejuvinated Shannon Craig (Lifford Strabane AC) snapping at her heels.
It is not only Championship medals which are at stake for local athletes as the Championships will play a major part in the selection of the Northern Ireland and Ulster team for the Manchester International. Victory with a qualification standard will ensure a place on the plane but there is every opportunity for others to impress with an Under 20 selection also making the trip.
The event will be available to watch via live stream: https://www.youtube.com/user/AthleticsNI/videos
We will also have live results, the link will be available via our social media channels.
Written by John Glover & Athletics NI Marketing