Pollock And Ganiel Take The Honours at Mash Direct Belfast City Marathon
04 May 2022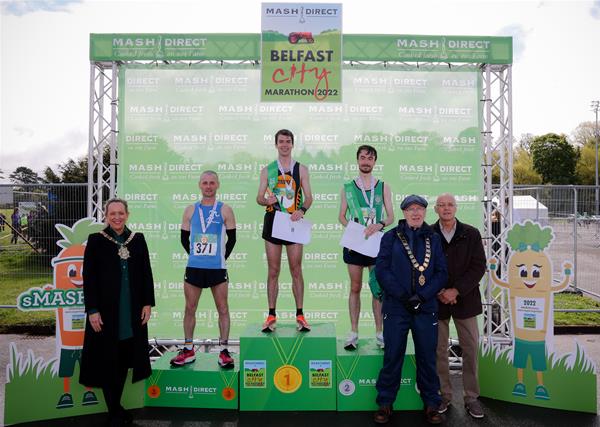 Paul Pollock and Gladys Ganiel became the first double local winners of the 40th Mash Direct Belfast City Marathon since 1988, when Theresa Kidd and Tommy Hughes won their respective event.
Paul Pollock (Annadale Striders, Coach: Andy Hobdell) made a valiant effort to snatch either a Commonwealth Games consideration standard or a European time for later this summer. Due to previous illness he failed to achieve this but took some consolation from a 8 minute plus winning margin of 2 hrs 16mins 13 secs which is still his fastest time since Valencia over 2 years ago.
The 40th running of this event marked some outstanding participation figures included some 4,576 in the marathon plus 1,688 five-person relay teams. The weather temperature on the day drastically increased as time went by some 8 degrees.
Earlier in the race the signs were good that Pollock would at least achieve the required time for the Europeans this August in Munich. Paul went through the half way mark in under 67 mins with the assistance of a 5 man Relay squad which included Commonwealth Steeplechaser Adam Kirk-Smith.
However, the twists and turns plus undulations around the 18 mile mark in North Belfast began to take their toll. The final stages on the Ormeau Road became a bit of an ordeal for the Annadale man particularly with the rising temperature. The exhausted 35-year-old doctor finally crossed the line at Ormeau Park in the knowledge he had at least given it everything.
It was clear that the double Olympian was paying a heavy price for a virus he picked up a month just prior to the recent Rotterdam Marathon. A philosophical Pollock said ;
"I found the course in North Belfast really tough. Then with some 4 miles left my legs started to go. It was a real struggle up the Ormeau Road close to the finish .
It's a pity as I genuinely felt that a Euro qualification time was on the cards. In fact at the start of this year I was in the form of my life. I then caught a virus and dropped out of Rotterdam at 15 miles. I felt today that the virus might still be in my system. Today wasn't a bad day but I would have liked to have done better."
Paul also had the additional worry about his wife who is expecting her second child imminently. He said that given his domestic circumstances he was making no future marathon plans at present but would look at the position again towards the end of the year.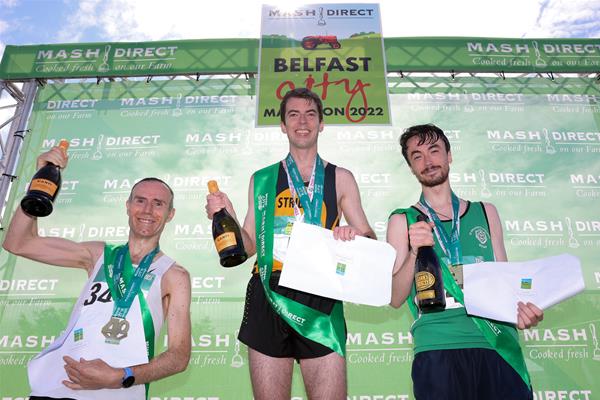 Top 3 Men Overall

Second place went to 27-year-old, Conor Gallagher in 2 hrs 24 mins 59 secs in what was remarkably his first marathon. He commented:

"With 3 miles to go on the Ormeau Road my legs just went to jelly. I found the course itself a bit hilly in parts. As I was aiming for a sub 2 hrs 30 mins time I'm really happy. I got back into the sport after a break. I'll try a half marathon in the near future ".

3rd place went to Dublin's Gary O'Hanlon 2.26.59. Gary, who will shortly turn 48 finished, 9th in Belfast last October in 2 hrs 30 mins. Being the proverbial marathon machine he intends to race in the Cork marathon shortly followed by Dublin in the Autumn.

The top six were completed by Ultra Runner, Gareth King (2.27.53), who also won the NI & Ulster bronze medal, Omagh Harriers' Eoin Mullan (2.30.05) and Martin Lynch (2.31.28).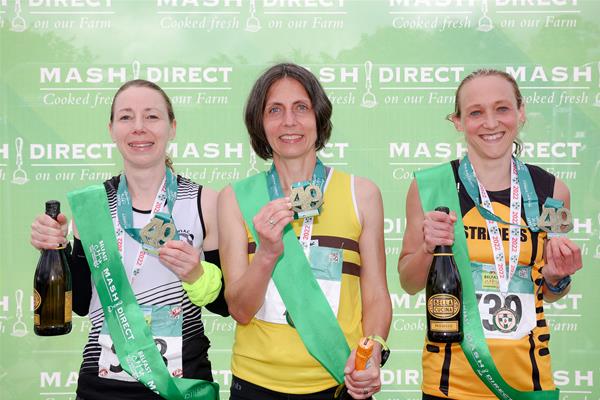 In the women's event there was as expected an emphatic victory for North Belfast Harriers' Gladys Ganiel in a solid time of 2 hrs 43 mins 50 secs. This is the 45 year old's first major victory and follows on from her bronze medal last October.

Gladys said: "I was determined to run here as I got Covid prior to Manchester. I really wanted to win in my home town and it's just great that I did that. The weather in the race was very changeable and it got very humid towards the end. I had a good lead and was determined to keep it. I've learnt to manage my injuries a lot better now but the current running shoes are also a major asset. They help you to recover a lot quicker so I might run in Dublin in the Autumn ".

Gillian McCrory (St Peters AC) ran her second PB in 6 months after London (2.53.41) when she took the runner up spot in 2 hrs 52 mins 5 secs. Annadale Striders' Natalie Hall got bronze in 2 hrs 54 mins.
Karol Doherty won the Men's Wheelchair event in 3 hrs 18 mins and 50 secs.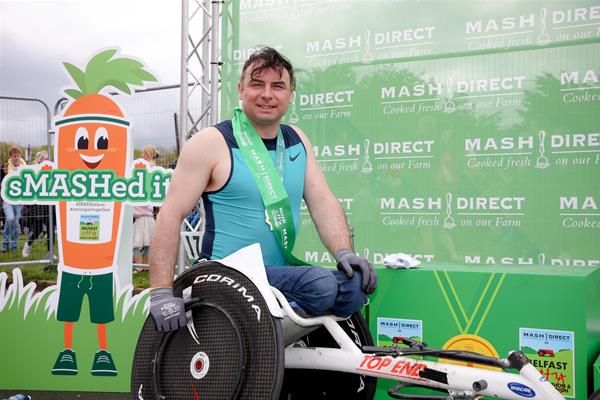 The inaugural winner of the 1982 Marathon Greg Hannon was on hand to present the main prizes. He said that while the winning Belfast times had not altered much over the years the mass participation and essential sponsorship element now were of major benefit to the sport.
Written by Brian Hill & Athletics NI Marketing