Super Senior Championships
02 August 2021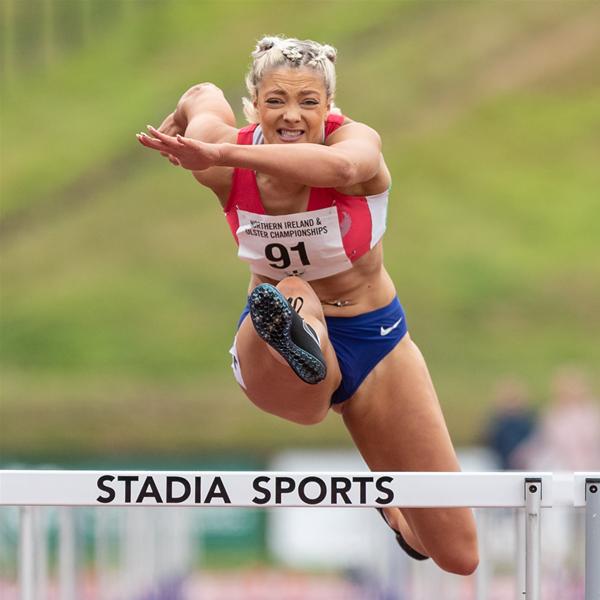 It was a super day of athletics action at the Mary Peters Track on Saturday 31st July for the NI & Ulster Senior Championships, with athletes from across Ireland and Great Britain competing against Northern Ireland's local talent.
Recent Loughborough graduate, Megan Marrs (City of Lisburn AC) proved that she is in contention for next summer's Birmingham Commonwealth Games when she won the 100m Hurdles title in 13.35, a time 0.04 seconds within the Commonwealth Games Nomination Standard and only 0.06 seconds outside of the long-standing Northern Ireland record set by Lady Mary Peters at the 1972 Munich Olympics of 13.29.

Appropriately enough Lady Mary was on hand to congratulate Marrs on her victory. Megan said: "I'm delighted with that. It's been a long time coming but I knew it was there after my good Indoor season. I was held up earlier in the season because of my Loughborough University studies. That run takes some pressure off me. I'm convinced a NI record is possible. I'll be racing in September's NI International."
Commonwealth Games athlete and Junior World Silver Medallist, Sommer Lecky (Finn Valley AC) led the Women's High Jump competition, clearing 1.78m, ahead of rival Bernice Coulston (Notts AC) who cleared 1.75m for 2nd and Shannon Craig (Lifford Strabane AC) who also cleared 1.75m for 3rd place. The Men's High Jump went to a jump off for first place with Le Cheile AC's Ciaran Connolly seizing the win, clearing 2.05m while Sheffield's Jonathon Heath secured 2nd place, also clearing 2.05m and City of Derry Spartans' Peter Fryer finished in 3rd place, clearing 1.75m.

A number of athletes were striving for Commonwealth Games nomination times, including City of Lisburn AC's Ellie McCartney, who won the Women's Pole Vault title, clearing 4.05m after making valiant attempts at the Games standard of 4.20m, just over her 4.15m PB.
The Senior Women's Javelin saw Commonwealth Games athlete, Kate O'Connor (Dundalk St Gerard's AC) winning with a throw of 48.10m, ahead of the U17 Champion Ellie McCurdy (Lifford Strabane AC) in 2nd place in 37.64m and Saidhbhe Byrne (Enniscorthy AC) in 3rd place with a throw of 34.40m.

There was a fascinating 3 way tussle in the Men's 800m where defending North Belfast Harriers champion Andrew Milligan just overcame the attentions of City of Lisburn's Dylan McBride with the closest of victories in 1.51.96 only 0.10 secs ahead of his rival. Willowfield's Andrew Wright was a close 3rd in 1.52.71.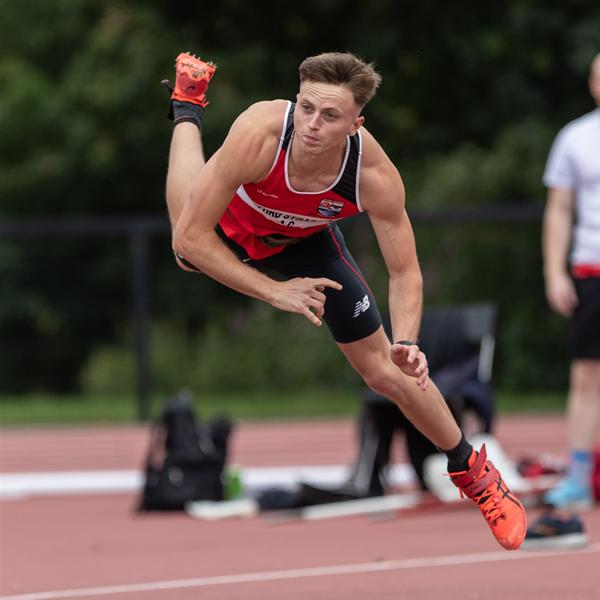 Lifford Strabane AC's Gareth Crawford stole the Men's Javelin competition in style, with a throw of 67.20m, with team mate, Aaron Crawford in 2nd with a throw of 60.06m and Killybegs AC's Dylan Kearns in 3rd place in 55.22m.

The Men's 1500m event witnessed a hectic struggle between defending champion Jonathan Whan (Clonliffe Harriers), Annadale Strider's Neil Johnston and visitor Samuel Stevens of Leicester Coritanian. Stevens eventually forged ahead to win in a useful PB time of 3.47.13 just ahead of Johnston in 2nd place in 3:48.03, while Whan claimed bronze in a time of 3:49.00.
Innyvale AC's Casey Mulvey claimed double gold on Saturday, in the Women's Discus and Shot Putt competitions. She threw 45.71m in the Discus, ahead of Clones AC's Molly Coffey O'Connor with a throw of 35.06m and Kildare Ac's Hannah Wilson, throwing 32.48m. In the Shot Put, Casey won with a putt of 14.50m, with North Down AC's Sarah Connolly in 2nd with 11.54m and Kildare AC's Hannah Wilson reaching the podium again for 3rd place with 9.84m.
Carmen Runners' Roisin Flanagan secured her first Senior NI & Ulster title in the Women's 1500m in a time of 4:18.54, ahead of St Abbans AC's duo Maisy O'Sullivan in 2nd place in 4:19.84 and Cheryl Nolan in 3rd place in 4:27.91. In the 1500m Wheelchair event, Le Cheile AC's Sean McCullagh (T54) came out victorious in a time of 3:38.03, with Cillian Dunn (Borrsiokane AC/ T54) in 2nd place in 3:38.55 and Torque Racing Club's Andrew Greer (T54) in 3rd place in 4:03.09.

In the Men's 5,000m there was a determined effort by Irish champion Hiko Tonoa Haso and City of Derry's Conor Bradley to secure sub 14-minute times. They succeeded in this by sharing the lead with Hiko eventually emerging victorious in 13:58.08 some 3 secs ahead of Bradley in 13:56.19, while Strive Racing Club's Gavin Corey came 3rd in 14:52.15.

In the Women's 5,000m race there was an impressive solo run by Hannah Irwin (Cambridge & Coleridge AC) who took gold in 16.03.05 some 10 secs ahead of Letterkenny's Nakita Burke in 2nd in 16:13.20 and Mid Ulster Ac's Grace Carson in 3rd place 16:13.90.

There was an impressive double sprint victory for Mid Sutton's Sarah McCarthy (Mid Sutton). She took the 100m in 11.93 secs ahead of defending champion Lauren Roy (City of Lisburn AC) in 12.01 and Dublin City Harriers AC's Catherine McManus in 12.02. Sarah was even more dominant in the 200m where her time of 24.27 was over one and a half seconds ahead of Galway City Harriers' Nicole Walsh in 25.93 and Molly Curran (City of Lisburn AC) in 3rd place in 26.03.


Rathfarnham WSAF's Stephen Gaffney took a convincing victory in the 100m in 10.50, with Orangegrove AC's Adam Sykes in 2nd place in 10.80 and Leo Morgan (Clonliffe Harriers) in 10.88.

Commonwealth Games athlete, Katie Kirk won the Women's 400m final, in a time of 54.58, with North Down AC's Rachel McCann in 2nd in 56.34 and Ella Duane (Naas AC) in 3rd in 58.92. In the Men's event Cathal Crosbie (Ennis Track AC) just took the win over Nenagh Olympic AC's Paul White with both given the same time of 47.89 secs and Jack Manning (Kilkenny City Harriers) came 3rd in 48.23.
Commonwealth athlete, Adam McMullen (Crusaders AC) took gold in the Men's Long Jump with a jump of 7.43m, ahead of Bandon AC's Shane Howard, jumping 7.25m and City of Lisburn AC's Ben Fisher who jumped 7.23m for 3rd place.
In the Women's Long Jump, it was City of Lisburn AC's Erin Fisher who claimed gold with a jump of 5.80m, after leading her pool in the first stages of the competition with a jump of 5.34m to qualify to the final. Team mate, Anna McCauley won silver with a jump of 5.57m, with North Down AC's Sarah Connolly in 3rd place jumping 5.51m.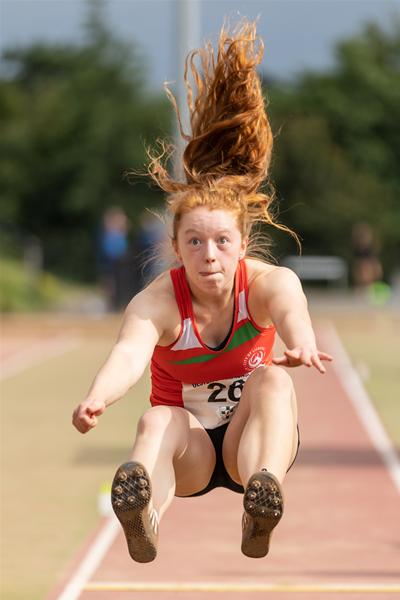 Written by Brian Hill & Athletics NI Marketing
Full results are available on our website: www.athleticsni.org/Results
The live stream is available to watch on our youtube channel: https://www.youtube.com/user/AthleticsNI/videos