Support Your Health with Revive Active
17 February 2021
Athletics Northern Ireland is delighted to announce an exciting new partnership with Health Food Supplement, Revive Active.
Founded in 2011 by Managing Director, Daithi O'Connor, Revive Active supplies a range of scientifically formulated health supplements, manufactured in Ireland, and exported to over 48 different countries. The range of supplements support health in the brain, skin and joints, as well as supporting energy levels and immune care.
Revive Active has supported a number of athletes, including GB Olympic long distance runner, Kate Reed, Cork-born Sheffield United's John Egan and Professional rugby player, James Ryan among others.
Athletics NI are delighted to be able to support Revive Active in providing batch tested, accredited and high quality supplements to the Athletics NI community. The new partnership offers a 10% discount on the three products, supporting the physical health of athletes across Northern Ireland, with Athletics NI Registered Members receiving a special 15% discount code.
Revive Active: "We are delighted to be working with Athletics NI and look forward to supporting them and their members over the coming months. We really believe it's critical to always look after your everyday health and wellbeing and whether you are a professional athlete, a fitness enthusiast or just exercise more casually, every little helps when it comes to improving your exercise and nutritional habits. Now more than ever, as we see light at the end of the pandemic tunnel we would encourage everyone to do as much as they can to look after themselves."
Catherine Ashford, Events & Commercial Manager: "We are delighted to announce the partnership with Revive Active, which is an exciting new prospect for Athletics NI and we look forward to working with them to help promote the health and wellbeing for our athletes and members."
Athletics NI Discount
Revive Active discount code: ANI10 offers you 10% off the Revive Active products via their online store: https://reviveactive.com/. The discount code is valid until 30th June 2021. Registered members will receive a 15% discount code by email, or by contacting the office: info@athleticsni.org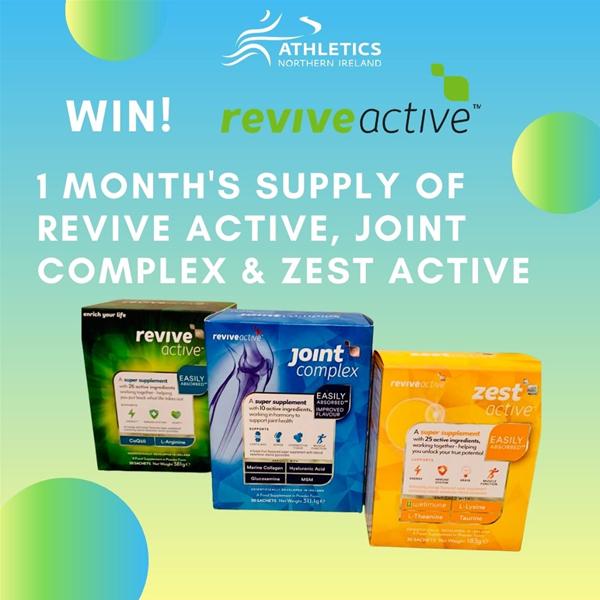 Revive Active Competition
To launch the partnership Athletics NI are giving away 1 month supply of Revive Active, Zest Active and Joint Complex to one lucky winner on Instagram: www.instagram.com/athleticsni
Clean Athletics
Athletics NI and the Revive Active partnership promotes the Informed-Sport tested products within the Revive Active range: Revive Active, Zest Active and Joint Complex. These three products have been developed and batch tested under the Informed Sport programme for World Anti-Doping Association banned substances, minimising the risk for those looking to safely add an extra edge to their performance. As any registered athlete is eligible for testing and we recommend athletes read the UK Athletics Supplement Position Statement at the bottom of the page before considering the use of any supplements.
There is more information on UK Athletics' Supplements Position statement here: https://www.uka.org.uk/governance/clean-athletics/uk-athletics-supplement-position-statement/
If you have any questions about Clean Athletics, please contact Tom Reynolds: tom.reynolds@athleticsni.org