VICTORIA PARK PLAYS HOST TO AAI NATIONAL 24-HOUR CHAMPIONSHIPS 2018
22 June 2018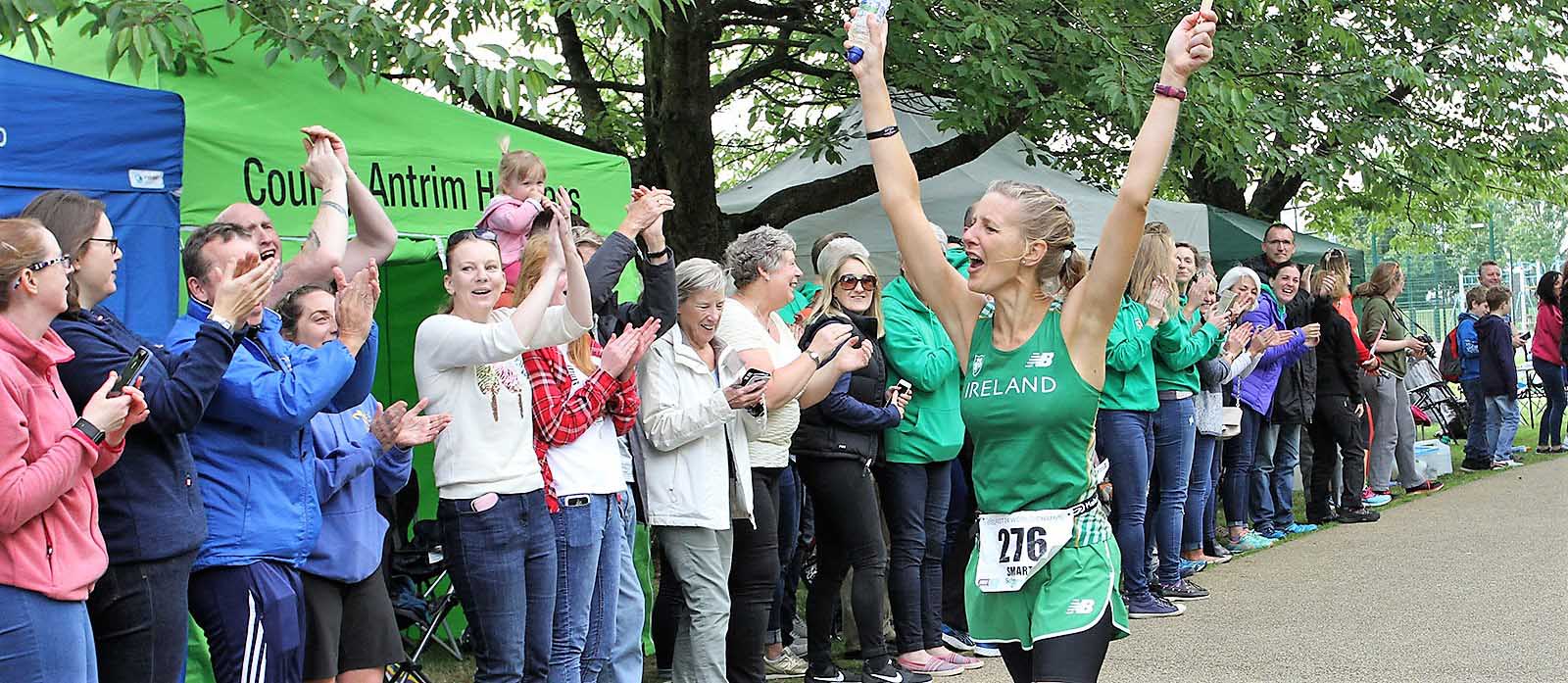 Long distance running returns to Victoria Park, Belfast this weekend (Saturday 23rd and Sunday 24th June 2018) with the AAI National 24-hour Championships incorporated within the popular Energia 24-hour Race.
It has already been an interesting and busy year for current National Champion and Irish record holder Eoin Keith, 49, who defends his title at Energia24.
In January, the Cork ultra-runner pulled out of the 268 mile (420kms) Montane Spine Race on safety grounds in the middle of a snow storm while leading. In April, he was invited to Tennessee to take part in the infamous Barkley Marathons and fell and broke his collarbone in a thunderstorm. There were no finishers. There have only been 15 finishers in its 33 year history. Them in May, the sun shone on him as he won the 190 miles (306kms) Northern Traverse with an hour to spare over the opposition.
Two weeks later he was back captaining the Irish team in Romania at the European 24-hr Championships and finishing 19th having covered nearly 145 miles (233kms).
It is a big ask to expect him to have recovered for Belfast but the Sportsworld athlete is not like other mortals and secretly he'll be looking at that Irish record of 154.4 miles (248.4kms) that he set in Victoria Park last year at the World Championships.
Eoin will be joined in Belfast by fellow Irish team-mates in Romania Aidan Hogan,45, from Cork and Madrid-based Eddie Gallen, 55, who loves to run in his home town and for whom this will be his 36th 24-hr race.
All three will need to keep a wary eye on Australian Barry Loveday, 40, who won the Canberra 24-hr race two years ago with 160 miles (258kms) - although he will have to get over the jet-lag coming from Queensland.
Norfolk's Ian Thomas,59, only started running seriously when he reached the age of 50 but he is a three time finisher of the famous Spartatlon in Greece and finished 6th in his 24-hr debut in Barcelona.
Welshman Jack Blackburn, 28, showed he is in good form running 2:37 at this year's Virgin London marathon and Latvia's Vilnis Pleite, 46, loves the Victoria Park course.
Among the 'local' runners to keep an eye on are Lifford's Ed McGroarty, 41, Bangor's Mark Walker, 48, and Newtownabbey's Ian McAuley, 47. At the World Championships last year all three were inspired to big PBs ranging from 132-136 miles (213-219kms).
Given the ultra reputation of the Japanese runners, Mizuki Aotami, 44, will start favourite for the women's race. The Tokyo athlete finished 15th at the World Championships (142 miles/228kms) and has since finished 5th at a big 24-hr race in Taiwan.
Co. Antrim Harrier Louise Smart, 39, from Newtownabbey leads the Irish challenge in the absence of Wicklow's Amy Masner who didn't feel she could recover from the European Championships in time (where she finished 10th) to defend her Irish title.
Irish international Louise ran very close to her PB in Romania (127 miles/205kms) - but there will be question marks over her recovery in such a short space of time.
Also challenging will be GB international Sam Amend, 39, who makes her first step up to the 24-hour. She won the 100k in Belfast 2 years ago and showed good form back in March winning the Anglo-Celt Home Countries 100K Plate (7:53) in a new course record and taking 16 mins off her personal best.
And, many will be following closely the return of Galway's Valerie Glavin,43. The Athenry runner holds the Irish Indoor 24-hr record (218km/135 miles) set back in 2011 in Finland.
Just 2 athletes will have done all 9 Energia 24s: Eddie Gallen and Ballynahinch's Iryna Kennedy who is back despite suffering a cardiac arrest last year. Since that, she has gone on to pass the 100 marathon mark.
And, there are two 69-year-old women in the field: Louth's Collette O'Hagan and Epsom's Ann Bath. Collette is one month older!. She has completed 551 marathons and Ann holds a plethora of records including the 65+ world age-group record at 116 miles (187 kms).
The 12-hr race sees the return of remarkable Cork woman Sinead Kane, 36. The visually impaired athlete and her guide finished a close-up second in this race in 2016 and last year the Youghal runner conquered the 7 Marathons on 7 Continents in 7 Days.
And, in the 100Km, there will be much interest in the return of Irish record holder Keith Whyte, 38. Persistent injury and 3 hip surgeries has kept the Ennis track athlete away from racing for nearly 2 years. But he's back looking to better that record (7:02) and impress the Irish selectors ahead of the World Championships in Croatia in September. Willowfield Harriers' Tim Brownlie will also line-up in the 100k.
There are also a record 18 teams entered for the 24-hr relay. In all representatives from some 14 countries and 26 Irish counties will go to the line.
Elsewhere this weekend…
Northern Ireland men Ian Bailey (Newcastle AC) and Eoin Lennon (Carnethy HRC) will be part of a strong Ireland team at this weekends World Mountain Running Association (WMRA) Long Distance Championships in Poland (Sunday 24th June 2018).
The talented pair, who are both regulars at the Garmin Mourne Skyline Mountain-Trail Race in Northern Ireland, will take on a plethora of the world's top mountain runners over a 36.2k course which includes approximately 2,110m of ascent.
Closer to home, there will be plenty of Northern Ireland interest at the BMC Loughborough GP in England on Saturday 23rd June 2018.
Danny Mooney (Letterkenny AC), Emma Mitchell (QUB AC), Conall Kirk (Annadale Striders), Fintan Stewart (City of Derry AC), Callum Crawford-Walker (Annadale Striders), Jonny Whan (City of Lisburn AC), Neil McCartan (East Down AC), Neil Johnston (Springwell RC) and Patrick McNiff (Newcastle AC) are some of the familiar faces who will be in action. A full start list for the event is available HERE.
Mourne Runners athlete Laura Graham and North Belfast Harriers' Gladys Ganiel O'Neill will join fellow Ireland international Claire McCarthy in a classy ladies field at this weekend's Swansea Half Marathon in Wales (Sunday 24th June 2018).
Round 1 of the AAI National League will also take place at the Mary Peters Track this weekend (Sunday 24th June 2018). Click HERE for more details.