Weekend Review New Irish Record for Eilish Flanagan
15 June 2021
Our NI and Ulster athletes were in action this weekend at the AAI Games in Santry; the BMC Grand Prix in Watford; the World Combined Events Challenge in Arona, Spain and at their local tracks in Antrim and Belfast as well as at the Cairncastle Classic Fell Race.
AAI Games & Combined Events Championships
The AAI Games served a number of impressive performances from both senior and junior athletes across the two-day event at the Morton Stadium. Eilish Flanagan (Carmen Runners AC/ Adam State Uni/ Coach: Damon Martin) set a new Irish and Northern Irish 2000m Steeplechase record with a time of 6:13.50 at this weekend's AAI Games in Santry, moving her to 22nd on the World All Time list. Olympian, Kerry O'Flaherty (Newcastle & District AC/ Coach: Richard Rodgers) finished in 2nd place in a time of 6:35.65.
Roisin Flanagan (Carmen Runners AC/ Adam State Uni/ Coach: Damon Martin) set a new PB of 9:06.67 in the 3000m and a new PB in the 1500m with a time of 4:15.50. Crusaders AC's Adam McMullen set a new season's best in the Men's Long Jump, clearing 7.68m (w/s 3.6), while Athletics NI Unattached athlete, Eoin Duffy (T47) set a significant new PB with a time of 11.84 in the Men's 100m, moving him up the Commonwealth Games rankings.
Lauren Roy (City of Lisburn AC/ Coach: Adam McMullen) also gained a new PB in the Women's 100m with a time of 11.79 (w/s 2.6) and City of Lisburn AC's Molly Curran won the U20 Women's Heptathlon, with a PB of 4259 points.
All the results from the AAI Games and Combined Event Championships are available here: https://www.athleticsireland.ie/competition/results/
BMC Grand Prix, Watford
Annadale Striders' Neil Johnston set a new PB in the Men's 1500m at the BMC Grand Prix in Watford with a time of 3:43.30. St Malachy AC's Callum Morgan set a new PB in the 5000m with a time of 14:33.13, beating the European U20 standard of 14:37.50.
In the Men's 1500m, Youth Academy athletes, Ryan Miskelly (Lagan Valley AC) set a PB of 3:53.58 and Annadale Striders' Niall McKnight set a PB of 3:53.78. City of Lisburn AC's Dylan McBride (Coach: Andrea Anderson) had an impressive performance in the Men's 800m finishing in 1:52.20 and Victoria Lightbody (City of Lisburn AC/ Coach: Andrea Anderson) finished the Women's 800 in a time of 2:11.39.
Full results: https://www.britishmilersclub.com/result/watford-grand-prix-12-june-2021/
World Combined Events Challenge, Arona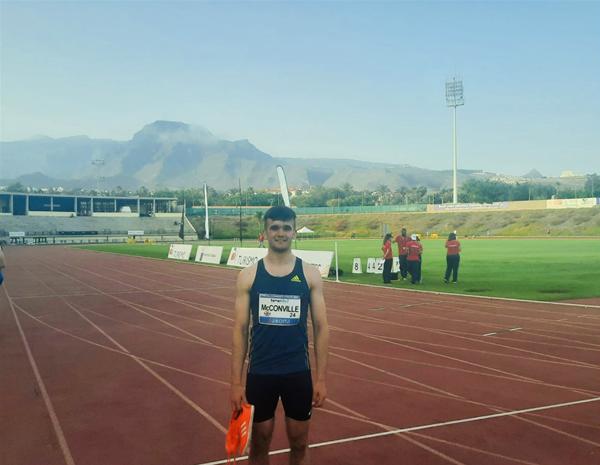 At the World Combined Events Challenge in Arona, Spain, Troy McConville (Windsor Slough Eton Hounslow AC/ Coach: Brendan McConville) set a new Northern Ireland U20 record in the Decathlon with a total of 7066 points, including five PB performances. In the 100m, Troy finished in a PB of 11.34s; cleared 4.50m in the Pole Vault for a PB and a PB of 6.51m in the Long Jump, as well as a throwing 39.43m PB in the discus and a 48.09m PB in the Javelin. He finished the 400m in a time of 51.53; the 1500m in 4:38.04; and the 110m Hurdles in 15.08; clearing 1.86m in the High Jump and finishing the Shot Put with a throw of 12.32m.
Dundalk St Gerard AC's Kate O'Connor set a new PB in the Women's Shot Put event with a throw of 14.54m, before clearing 1.73m in the High Jump and finishing the 200m in a time of 26.44. Unfortunately, Kate gained an injury in the 100m Hurdles, which she finished in 14.24, and had to withdraw after day 1's events.
Armagh AC Hurdles & Steeplechase
2018 Commonwealth Games athlete, Adam Kirk-Smith (Derry Track Club) returned to the track at the Armagh AC Hurdles and Steeplechase Meet at the Mary Peters Track on Sunday 13th June, competing in the Men's 3000m Steeplechase, where he finished in 9:34.43.
There was an array of brilliant performances at the meet, including PB's from Youth Academy athletes in the U17 Boys 100m Hurdles event, Finn O'Neill (Lifford Strabane AC) with a time of 13.71 and Zane McQuillan (Ballymena & Antrim AC) in a time of 13.89 and in the 110m Hurdles for U20 athlete, Jordan Cunningham (City of Lisburn AC) with a time of 14.64.
Full results are on our website: www.athleticsni.org/Results
Cairncastle Classic Fell Race (written by Justin Maxwell)
On Saturday 12th June 2021, East Coast Athletic Club invited Northern Ireland's fell running community to Ballygally, for the 2nd annual running of the Cairncastle Classic Fell Race. The event was Race 1 of the NIMRA 2021 Championship, with approximately 2200ft of elevation over the 10 mile course.
From Cairncastle Primary School, athletes raced uphill on the road, before joining the fells for the ascent of Knockdhu. In the battle for the men's title, it was 2019 winner Timmy Johnston (Mourne Runners), Allan Bogle (City of Derry AC) and Larne man Ryan Stewart (Scottish Dental Runners) who led the field of 150 runners onto the hills. They were closely followed by Mourne Runners pair Jonny Scott and Adam Cunningham. Early in the race, Martsje Hell (North Belfast Harriers) had already taken a commanding lead over the female pack, with 2019 race winner Esther Dickson (Newry AC) and Elizabeth Wheeler (Glens Runners) in pursuit.
On the higher slopes of Knockdhu (Checkpoint 1), the gaps began to appear as the athletes raced across the Sallagh Braes, before descending to the valley floor. By Checkpoint 4, Mourne man Timmy Johnston had almost two minutes on Stewart, with Bogle a further one minute behind. Martsje Hell led the ladies into Linford Car Park. At this point, it looked like the race was for 2nd place, with Dickson and Wheeler both moving well, and fifty seconds between the pair.
As the athletes moved onto the final summit of the day (Scawt Hill), positions didn't change amongst the men. However, in the ladies race, the impressive Glens Runner Elizabeth Wheeler had significantly cut the gap to Esther, with both of them reaching Checkpoint 5 only two seconds apart. With only the downhill stretch back to the coastal village of Ballygally remaining, the Newry AC lady showed her remarkable descending skills to again extend the distance between the two.
It was Timmy Johnston who led the field back to the new home of the race, at Cairncastle Primary School, taking the win in 1:11:08 (1st place). In 2nd place was Ryan Stewart 1:14:44, followed by Allan Bogle in 3rd place (1:16:18).
Martsje Hell took the ladies title in 1:25:31 (1st place), with Esther Dickson finishing in 2nd place (1:32:35). Elizabeth Wheeler crossed the line in 3rd place, with a time of 1:33:08
TOP 3 MALES
Timmy Johnston (Mourne Runners) 1:11:08
Ryan Stewart (Scottish Dental Runners) 1:14:44
Allan Bogle (City of Derry AC) 1:16:18
TOP 3 FEMALES
Martsje Hell (North Belfast Harriers) 1:25:31
Esther Dickson (Newry AC) 1:32:35
Elizabeth Wheeler (Glens Runners) 1:33:08