When to Watch Northern Irelands Tokyo Olympians
28 July 2021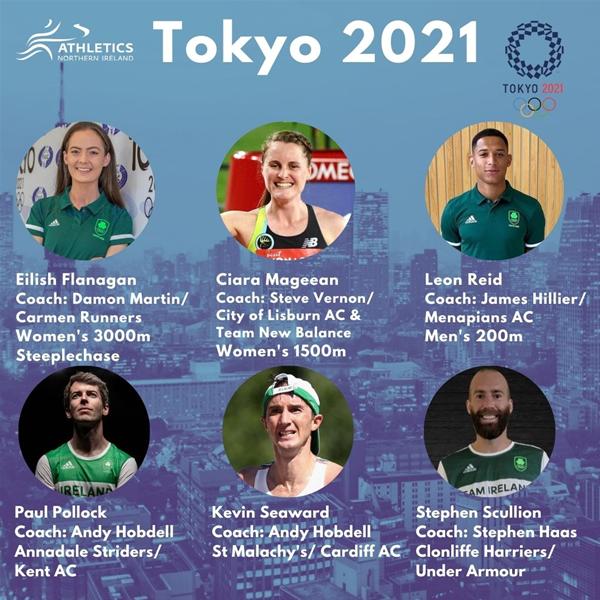 The Olympic cauldron has been lit and the Tokyo 2021 Olympic Games kicked off on Friday 23rd July with the Opening Ceremony, with the athletics events due to start on Friday 30th July.
Athletics Northern Ireland has 6 athletes at the Tokyo Olympics, representing Team Ireland, who will compete across a range of events.
First to take to the stage will be Carmen Runners' Eilish Flanagan, coached by Damon Martin in the Women's 3000m Steeplechase on Sunday 1st August in Round 1. The European Cross Country team Silver Medallist set her NI record of 9:40.68 in May in Eugene, Oregon and finished 2nd at the Spitzen Leichtathletik meet in Lucerrne, to secure her place in Tokyo.
Next will be Portaferry's Ciara Mageean, coached by Steve Vernon (City of Lisburn AC/ Team New Balance) who will compete in the Women's 1500m Round 1 on Monday 2nd August. The three-time European Medallist finished in 10th place at the 2019 World Championships where she earned her NI record time of 4:00.15.
On Tuesday 3rd August, Leon Reid, coached by James Hillier (Menapians AC) will line up for the Men's 200m in Round 1. The NI Commonwealth Bronze Medallist has a personal best time of 20.27, set at the 2018 British Championships in Birmingham.
Saturday 7th August will see three of NI's athletes represent Team Ireland in the Men's Marathon. Paul Pollock, coached by Andy Hobdell (Annadale Striders & Kent AC) ran a time of 2:10.25 at the Valencia Marathon, while Kevin Seaward, coached by Andy Hobdell (St Malachy's AC & Cardiff AC) set a time of 2:10.09 at the Seville Marathon. Stephen Scullion, coached by Stephen Haas (Clonliffe Harriers & Under Armour) set his qualification time of 2:09.49 at the London Marathon, also setting a new Irish record time.
The full schedule for Northern Ireland's Tokyo Olympians, including Heats, semi-finals and finals is below:
Sun 1st

Aug

Mon 2nd

Aug

Tues 3rd

Aug

Weds 4th

Aug

Fri 6th

Aug

Sat 7th -

Sun 8th Aug

Women's 3000m Steeplechase

Round 1

H1 1:40am

H2 1:55am

H3 2:10am

Women's 1500m Round 1

H1 1:35am

H2 1:43am

H3 1:51am

Men's 200m

Round 1

H1 3:05am

H2 3:13am

H3 3:21am

H4 3:29am

H5 3:37am

H6 3:45am

H7 3:53am

Women's 1500m

Semi final

SF1 11:00am

SF2 11:12am

Women's 1500m Final

1:50pm

Men's Marathon

11:00pm

Men's 200m

Semi Finals

SF1 12:50pm

SF2 12:58pm

SF3 1:06pm

Women's 3000m Steeplechase

Final

Final 12:00pm

Men's 200m

Final

1:55pm
*Times given are NI times. Heat times will be confirmed closer to the event times. Follow us on Facebook, Twitter and Instagram for updates.
Find the full Tokyo 2021 Olympics Athletics schedule here: https://olympics.com/tokyo-2020/olympic-games/en/results/athletics/olympic-schedule-and-results.htm