Birmingham Most Successful Games since 1986
12 August 2022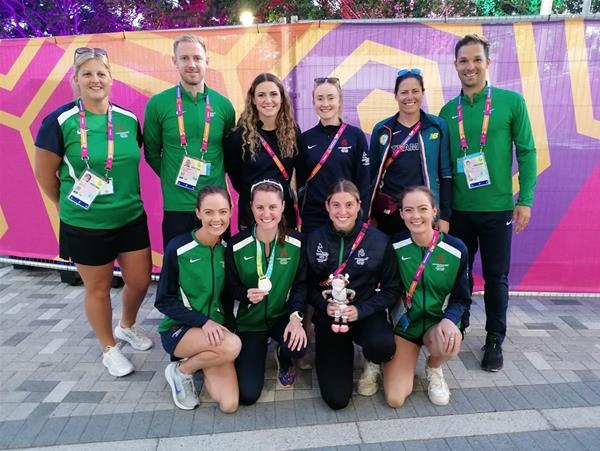 With 2 Silver medals and 4 additional top 8s, Birmingham 2022 was the most successful Commonwealth Games since the 1986 Games in Edinburgh for Athletics NI.
Kicking off the athletics action was Mark Millar in the T54/53 Marathon. A relative newcomer to the sport in only his fourth marathon, Mark, coached by Heather Ardis, battled his way through an extremely undulating course. Mark built an early lead over his South African rival and in dramatic scenes during the final 15km responded to news that David Weir had suffered a slow puncture to close the large gap Weir had developed. In doing so he secured 6th place in the final stretch, almost catching the Australian athlete who had been minutes ahead of Mark at half way. Having suffered a life changing accident during an Ulster Cycling race just after the last Games on the Gold Coast, Mark has made an incredible transition to Para sport and we hope this will be the first of many championships for him.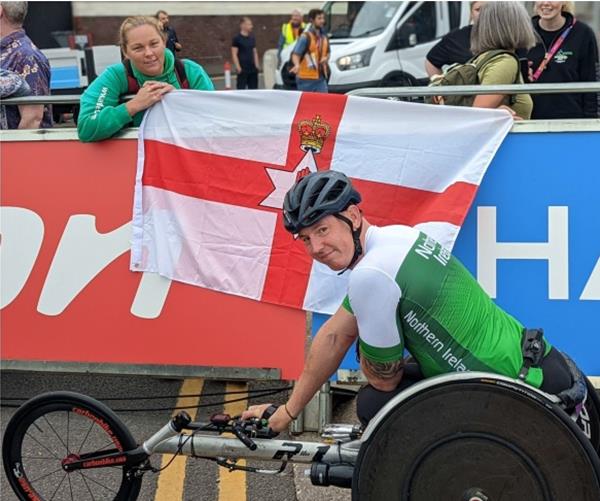 Not to be outdone, Northern Ireland's Marathon Olympians, Stephen Scullion (Nic Bideau) and Kevin Seaward (Andy Hobdell), began their Games campaign on the streets of Smithfield just as Mark was finishing. Again the incredibly undulating course impacted times for all athletes with Tanzanian athlete Victor Kiplangat (2:05.09 PB) delivering a run of 2:10.55 on the day to win. Selected with his 2:11.52, two time Olympian and Athletics Team Captain for this Games, Kevin Seaward managed the course well to produce a time of 2:16.54 to finish 9th. To the astonishment of the crowd in the final stretch, Kevin was visibly impacted by an injury affecting his gait on the left side. Willed on by the crowd and Athletics NI representatives on every water station, Kevin overcame the issue which had surely threatened to derail his performance.
Fellow marathon Olympian and Northern Ireland record holder, Stephen Scullion ran an ambitious race holding a top 8 position until the halfway point before dropping to 11th by around the 35k mark. Stephen dug deep on the final hills rising into Victoria Square where he caught Dewi Griffiths of Wales on the final straight producing a time of 2:17.51 to finish 10th.
With outstanding performances across day 1 and 2 of the track and field program Heptathlete Kate O'Connor (Michael O'Connor) and team mate Anna McCauley (John Lane) laid the foundations for what was to be 6 compelling days of world class action on the track. Fireworks in the Alexander Stadium to introduce the session were followed by fireworks on the track as Kate began her medal hunt with a two tenths PB-13.74s in the 100m Hurdles to finish one place ahead of England's Katarina Johnson-Thompson, the competition favourite and 2019 World Champion. Kate excelled again in High Jump with a season's best of 1.78m closely followed by Anna on 1.75m.
A season's best of 13.73m for Kate placed her first in the Shot Put gaining valuable points on KJT, Jade O'Dowda and Holly Mills who were now in the top spots. To complete day 1 Kate again achieved a personal best of 24.73s in the 200m with Anna running 25.40s. Overnight the Northern Ireland ladies occupied 2nd and 6th with 3656 and 3269 points respectively.
Whilst the combined eventers took some much needed rest ahead of Day 2 the action continued in the field with City of Lisburn & Woodford Green AC Pole Vaulter Ellie McCartney (Kate Rooney) making her Games debut. Ellie successfully cleared 3.90 on her first attempt, 4.10m & then 4.25m on her second attempt for a PB. A fantastic outing for the 22 year old who like Kate (21) and Anna (21) is a graduate of Athletics NI's Youth Academy programme.
Current Youth Academy Athlete Eve Walsh-Dann (aged 20 & coached by Roger Sexton) faced stiff competition in heat 2 of the T38 100m. Eve equalled her recently set PB with 14.04s. With this not quite enough to secure a qualifying position for the final Eve placed 10th overall. At only 20 years of age this is an impressive Commonwealth Games debut.
Day 2 of the Heptathlon began with another full capacity stadium and unbroken sunshine but a somewhat difficult wind for long jump. Kate secured a best jump of 5.82m with Anna also achieving her best of 5.68m in the first round. Moving into the long midday break the girls now occupied 5th and 6th spots with just javelin and 800m to go. Katarina Johnson Thomposn's jump of 6.33, had now consolidated her spot at the top of the leaderboard with Jade O' Dowda just over 100 points behind followed by Taneille Crase just under 200 points behind KJT. Kate would now need to close a 74 point gap to be back in medal contention.
10,000m specialist Hannah Irwin (James Thie) bravely took to the track on a sunny Wednesday evening despite having experienced a sudden onset pain in her foot during her shake out run the day before. Hannah endured discomfort throughout the early kilometres of the race dropping out in pain just before the 5km mark. Hannah's injury was later diagnosed with a scan showing a metatarsal stress fracture. Everyone at Athletics NI wishes Hannah a speedy recovery and are grateful for the medical support provided by Games organisers and CGNI in Birmingham.
The final session of the heptathlon saw all Northern Irish eyes on Kate O'Connor as she aimed to throw herself into medal contention in Javelin. Kate would need to throw as close as possible to her PB to reduce the points gap going into the 800m. Not to disappoint an enthralled crowd who willed all 3 of Kate's throws over the 50m line a best effort of 51.14m came in the third and final throw for Kate. It took an impressive lifetime best of 44.33m from Katarina Johnson-Thompson to minimise the damage. Anna produced her 2nd best ever javelin throw of 34.87m which again consolidated her 6th place in the overall standings.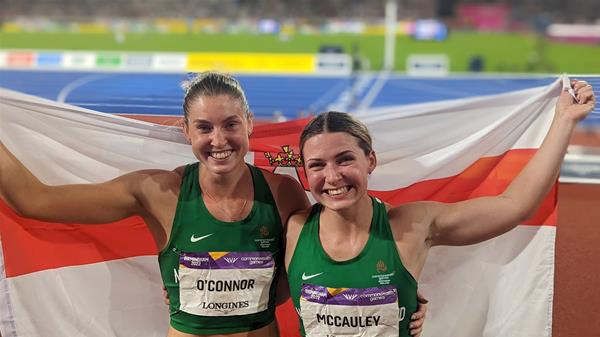 Lining up for the 800m Kate would now need a 9 second gap to wrestle the gold medal from KJT but also needed to ensure she stayed within 2 seconds of England's Jade O'Dowda to hold her silver medal position. In an exciting 800m England's Holly Mill's took on the pace whilst KJT sat in the pack until deploying her final kick. Kate produced a time of 2:14.48 against Jade's 2:14.00 to secure herself a silver medal and the first combined events medal at the Commonwealth Games since 1974 where both Mike Bull and Lady Mary Peters won Gold. With a 2:19 800m Anna secured 6th place in the Heptathlon and will have been delighted to have produced such a steady heptathlon performance with so many events close to personal bests.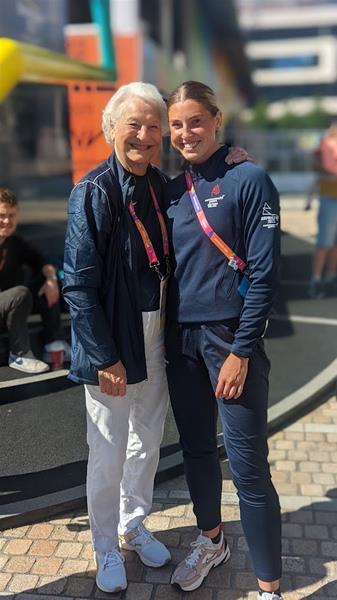 Both Kate and Anna enjoyed the traditional combined events lap of honour with the Northern Ireland flag. Northern Ireland had no competitors on the track on Thursday providing a much needed break for staff who enjoyed supporting Kate with media commitments including a meeting with Lady Mary Peters who met her in Centenary Square amongst fans and autograph hunters.
Talent Lead Laura Kerr writes: "The ultimate aim of Athletics NI since 2014 has been to equip talented juniors with the physical preparation, knowledge, skills, and mindset to transition to successful senior Commonwealth Games performers. 5 of the 12 strong Commonwealth Games Team, now in their early 20's are graduates of the Athletics Northern Ireland Youth Academy. In line with our philosophy; "Nurturing junior talent, aspiring to senior success" I am delighted that these talented juniors, who were so closely supported in NI, have successfully transitioned to produce medals, personal bests and season's bests at this Commonwealth Games. Kate O'Connor for example was supported by the Rising Stars multi events programme and Youth Academy and now receives integrated support services at the Sports Institute. I am delighted for Kate, her father and all of her team and grateful to all those who supported her over many years in junior programmes. Kate's medal and outstandingly executed performance is proof that a long term athlete development approach, alongside early exposure to expert coaching and integrated support services in Northern Ireland can produce a world class performer."
Megan Marrs (Alex Nwenwu) led off the action on day 7 in the 100m Hurdles. In a truly World Class field including the World Record Holder Tobi Amusan and the world number 6 from Jamaica, Megan was drawn in heat 1 where she placed 4th with a season's best of 13.37s. As heats 2 and 3 unfolded Megan's time was not quite enough for a qualifying spot in the final but with her fastest run in over a year Megan will take pride in delivering her season's best on the global stage to outperform her ranking.
On the same day Ciara Mageean (Helen Clitheroe) comfortably negotiated her 1500m heat, which included Laura Muir and Lizzie Hall, coming away with a heat win and time of 4.14s. Ciara looked in controlled form ahead of the final. Omagh Olympian Eilish Flanagan (Damon Martin- Adams State) lined up ranked 8th in a high standard 3000m steeplechase against the Olympic Champion from Uganda who stretched the field from the start with a scintillating pace. Eilish ultimately finished 6th in a season's best of 9.57.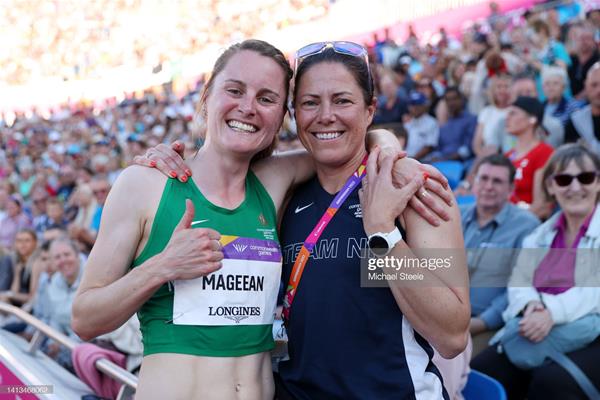 With just Roisin Flanaghan and Ciara Mageean left to toe the line the final session of athletics looked poised to be a spectacular one. Seasoned performer, European Indoor and Outdoor Medalist and two time Olympian Ciara Mageean established her place at the front of the pack early on and putting in regular surges held off Scotland's Laura Muir for the first 3 laps. With a split of 60 seconds from 800-1200m Laura and Ciara stretched away from the field and a sprint finish ensued. The Olympic Silver Medallist Laura Muir grasped the gold on this occasion with Portaferry's Mageean strong all the way through the finish line where her proud parents waited to celebrate. And so began another lap of honour for the Northern Ireland Flag which was purchased by Ciara's mum before the last Games on the Gold Coast.
Inspired by Ciara's performance after listening on from the call room Roisin Flanagan (Damon Martin) lined up against Eilish McColgan and some of the top Kenyans in the 5000m. Settling into a comfortable early rhythm Roisin turned up the pace to chase down a number of athletes in the second half of the race to eventually finish 11th with a Northern Ireland Record of 15.26.76 and 3 places inside her pre-event ranking.
Performance Lead Tom Reynolds said "This is the 4th Games I have attended on a Northern Ireland Team and by far the best in terms of team preparation, culture, CGNI support and atmosphere both in the stadium and around Birmingham. I am indebted to Team Coaches Laura Kerr, Amy Foster & Jackie Newton and Athletics Physiotherapist Ronan McLaughlin who worked tirelessly through our Slovakia holding camp and the Games."
"Significant investment from the Sport NI Sporting Winners programme (now known as PETP) has allowed us to professionally support a number of Northern Ireland athletes with performance camps and integrated services and management. Having achieved our best performance since the boycotted Edinburgh Games of 1986 (where only 27 countries competed) return on investment is clear. I must also thank Commonwealth Games NI and the Chef de Mission Alison Moffitt-Robisnon for their professional approach to preparations and wider support from their medical, media and anti doping personnel at the Games."