Junior stars ready to chase gold at NI and Ulster Age Group Championships
16 June 2017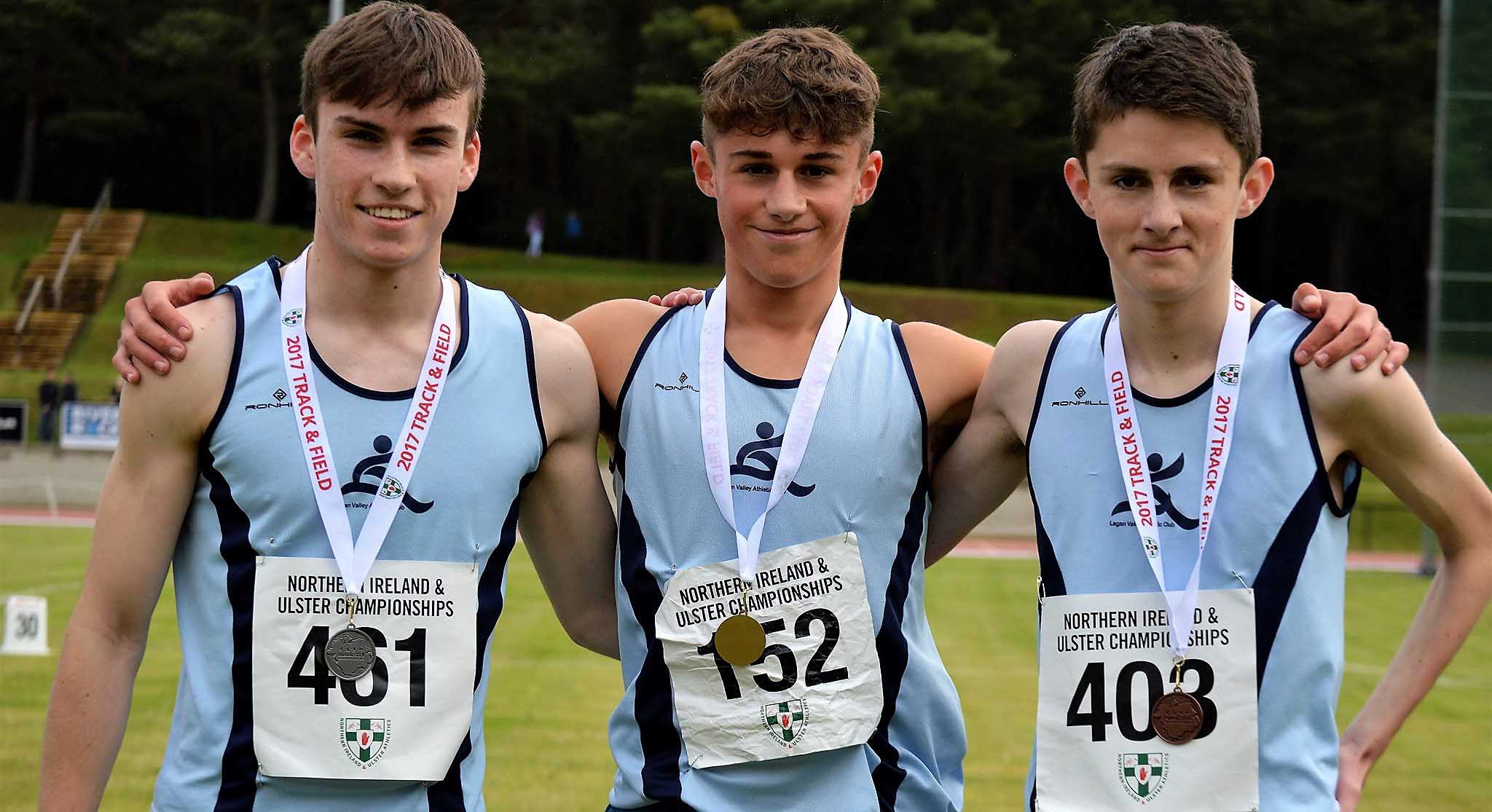 At least six All Ireland Champions will be in competition at this weekend's Northern Ireland & Ulster U14, U15, U16 and U17 Age Group Championships, which will be held at the Mary Peters Track in Belfast (Saturday 17th June 2017).
A day of excellent competition lies ahead as the Province's top up and coming talent battle it out for medals. A timetable for the event can be found HERE
All Ireland Schools individual gold medallists Dylan McBride (Willowfield Harriers), Anna McCauley (City of Lisburn AC), Iona McPherson (City of Lisburn AC), Cormac O'Rourke (Lagan Valley AC), Jade Williams (Shercock AC) and Jonathan Cochrane (Ballymena & Antrim AC) will swap the vests of their educational establishments for those of their respective clubs as they chase further gold.
Dylan McBride will line up in his favourite 800m event as well as the 200m. The Under 15 Willowfield Harriers athlete clocked an impressive 2:06.55 to win the Irish Schools 800m title two weeks ago. Dylan will face Joseph Haynes (Armagh AC), the man who beat him by the narrowest of margins over 1500m at MPT last week and Odhran Hamilton (Armagh AC), who he beat to claim the Schools title.
Under 17 athlete Anna McCauley will compete in three events, the High Jump, 100m and 100m hurdles, and based on recent form, the City of Lisburn AC star could medal in all three. There will of course be a level of expectation around Anna's High Jump event following her 1.65m leap to win the recent All Ireland Schools competition.
Ballymena & Antrim AC's Jonathan Cochrane will also have a busy day, with three events to look forward to. Under 17 competitor Jonathan will compete in the 100m for the first time this season, whilst taking on his regular jumps events, the Long Jump and the Triple Jump; he excelled with an 11.54m Triple Jump effort to take gold in Tullamore earlier this month.
Under 17 ladies Iona McPerson and Jade Williams will prove hard to beat in their respective field events. Iona will be competing in the Triple Jump and is sure to start as favourite when taking into consideration her huge step up in performance this year – the City of Lisburn AC athlete went over 11 metres for the first time this season, recording her current best of 11.28m at the Ulster Schools. Jade will be throwing the Hammer and will be hoping to get close to, or better, her current best of 59.09m; she set this at the All Ireland Schools in 2016.
Another Under 17 athlete, Cormac O'Rourke, will race over 400m and 800m, and with 55.76 and 1:57.43 personal bests over the respective distances, he is sure to be considered as a strong contender for gold.
There will be wealth of athletic talent in action at the event, with Irish Schools (Minor) 800m record holder and silver medallist Victoria Lightbody (City of Lisburn AC) just one of a huge number of athletes to look out for.
Rebecca Wallace (North Belfast Harriers) and Katie Agnew (Ballymena & Antrim AC) will feature in the Under 16 Girls 3,000m race, while Tir Chonaill AC's Mia McCalmont will be in action in the Under 17 Girls equivalent. Lagan Valley AC club mates Alex Boyd and Peter Carty will resume battle in the Under 17 Boys 3,000m following their exciting contest alongside club mate Cormac O'Rourke over 1500m at MPT last week.
Luke O'Sullivan (Shercock AC) will compete in the Under 16 Boys 800m after dominating the Under 16 1500m race at MPT last weekend. Murphy Miller (North Down AC) will toe the line for the Under 16 Girls 800m, while Eimear McBrien (Lagan Valley AC) and Cara Laverty (City of Derry AC) will be part of massive Under 15 Girls 800m competition. Under 14 Boys Oisin Kelly (Cranford AC) and Joel Chambers (Ballydrain Harriers) will go head-to-head over 800m after enjoying an exciting 1500m dual seven days ago.
Source: NiRunning