Academy Applications Now Open for 2022-2023
12 September 2022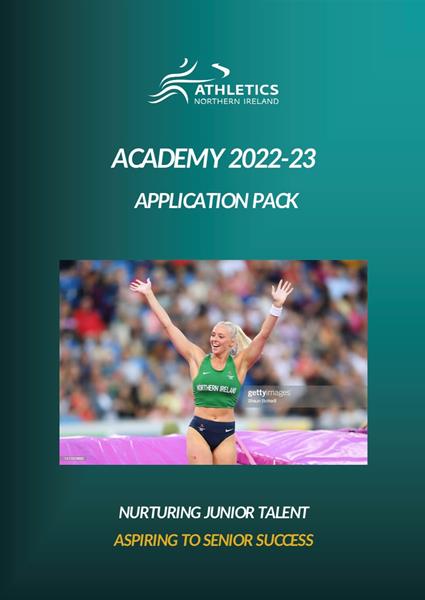 Athletics Northern Ireland have today opened the Youth Academy & Speed-Power Academy for applications for 2022-2023. The Academies will support the progression of talented 14-21 year old athletes.
The Athletics Northern Ireland Youth Academy was first launched in September 2014, by Laura Kerr and Tom Reynolds, to support Northern Ireland's most talented young athletes and their coaches, with the addition of the Speed-Power Academy in 2018, athletes and coaches from across Ulster are now supported through the programmes.
"We believe physical & technical preparation and a performance mindset are critical for athlete development and we must create a challenging, supportive, open and professional environment where athletes and coaches can fulfil their potential."
Athletics Northern Ireland Academies aim to identify and develop talented junior athletes and raise their potential for senior success. We are focused on improving physical qualities, sporting knowledge, psychological skills and performance behaviours in young athletes whilst educating parents and coaches on what it takes to perform consistently on the international stage as seniors. In doing so, we believe Northern Ireland will develop a pipeline of junior athletes who will become successful seniors representing Northern Ireland at the Commonwealth Games and Great Britain or Ireland at major championships.
Since establishing the Youth Academy in 2014 supported Athletes have achieved Commonwealth Youth Games Medals, European Junior Medals, World Para Medals & made breakthroughs to compete at European Team Championships, Senior Commonwealth Games, European and World Indoors.
27 Northern Ireland U20 and U18 Records broken between 2015-2022.
5 Youth Academy graduates were selected to represent Northern Ireland at the Birmingham 2022 Commonwealth Games.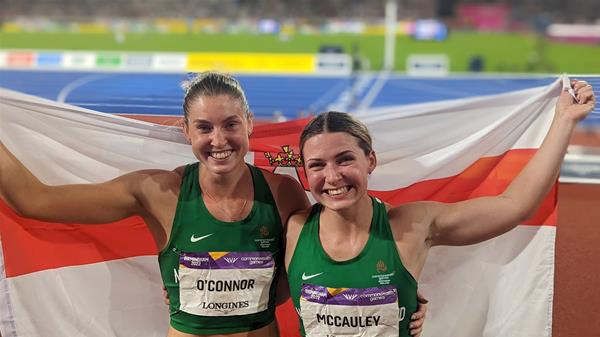 Talent Lead Laura Kerr states; "In line with our philosophy; "Nurturing junior talent, aspiring to senior success" I am delighted that these talented juniors, who were so closely supported in NI, have successfully transitioned to a senior Commonwealth Games in their early 20's producing a medal, multiple personal bests and season's bests to perform competitively on the day. Kate's medal and outstandingly executed performance is proof that a long term athlete development approach, alongside early exposure to expert coaching and integrated support services in Northern Ireland can produce a world class performer."
ELIGIBILITY
From today athletes aged under 22 years old will be eligible to apply to either:
Youth Academy - for NI's most talented eligible athletes* aged 15-21
Speed - Power Academy - For NI

and

Ulster eligible athletes aged 14-18. This will suit athletes aspiring to future Youth Academy selection
*NI eligibility conditions
Born in Northern Ireland
Having at least one parent OR grandparent born in NI
3 years residency in NI
The Athletics Northern Ireland Youth Academy has proven popular and successful and now has bases at Jordanstown and Coleraine delivering weekly physical preparation and athlete education sessions.
The Speed Power Academy is based only at Jordanstown. Weekly academy sessions delivering speed development and strength & conditioning will run for a minimum of 30 weeks with some closures for Christmas/ Easter.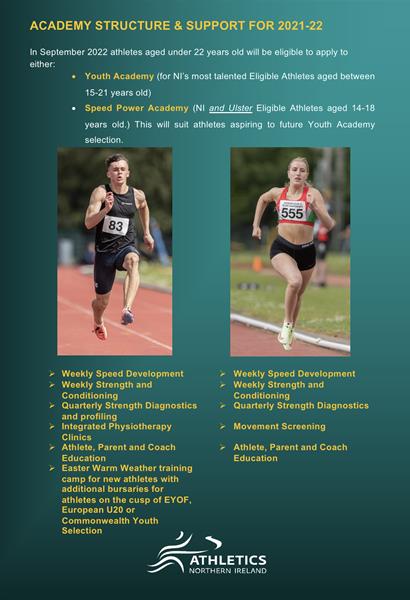 APPLICATION & SELECTION
The academies aim to support athletes and coaches who have identified their own strengths, weaknesses and areas for progress and who will benefit most from engaging with the physical preparation, physiotherapy and performance lifestyle support available. Selection will prioritise athletes who demonstrate the potential and ability to eventually represent Northern Ireland at a Senior Commonwealth Games.
Athletes will be assessed for inclusion based upon their performance standards and performance potential. The Youth Academy is designed to deliver a 3 year curriculum and the Speed Power Academy delivers a 2 year curriculum. All athletes must reapply each year. Limited Academy capacity means athletes across all events must be compared. During the selection process both performance and potential factors will be taken into consideration. More detail can be found in the application information pack.
APPLICATION
Interested Athlete-Coach pairs should meet to complete the online application form linked below. We recommend a minimum of one hour together to complete the form. Parents/guardians of U18 athletes should also be present during the application process.
APPLICATION DEADLINE IS FRIDAY 23RD SEPTEMBER AT 5PM. NO LATE APPLICATIONS WILL BE ACCEPTED
If you have any questions please contact amy.foster@athleticsni.org early in the application window. Please read the accompanying information pack which contains all essential information before getting in touch.