Athletics NI Launch New Athlete Development Pathway
10 November 2017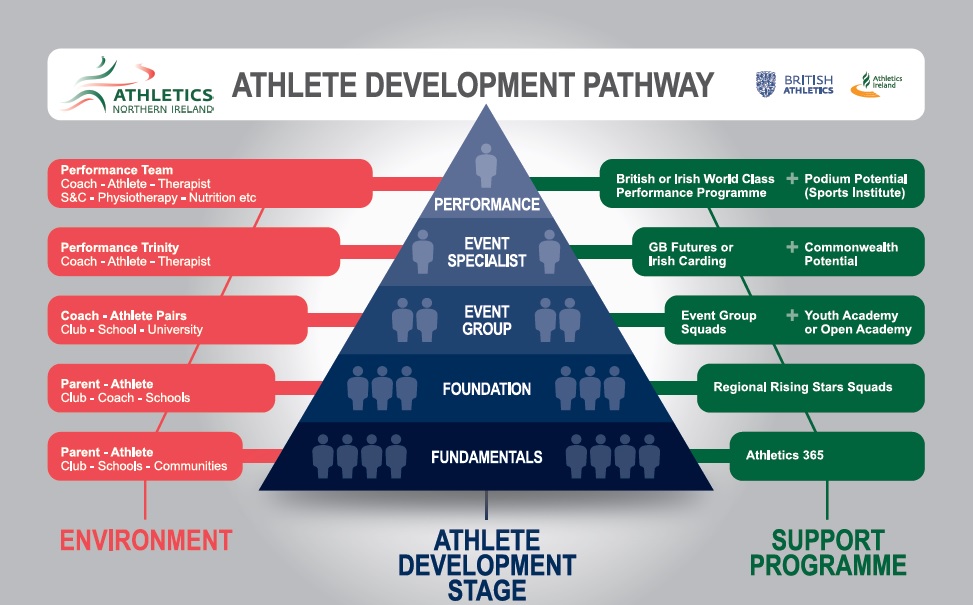 Athletics NI is excited to announce the launch of our new Athlete Development Pathway. The Pathway maps out how we will support and develop athlete-coach pairs from the fundamentals to the podium.
Through the Athletics 365 programme Athletics NI will develop schools teachers, community leaders & athletics coaches to deliver fundamental movement skills including agility, balance and coordination; speed; jumping and landing, supporting a multi-sport approach.
At the foundation level coaches should focus on running, jumping and throwing skills to support a multi-event approach and appreciating young athletes may still be involved in multiple sports.
Athletics NI's flagship multi event initiative Rising Stars will develop regional coaches to deliver weekly squads under the supervision of mentor coaches.
Over 200 athletes are involved in 8 weekly Rising Stars Squads.
The Flahavan's Junior Cross Country Squad and Startrak also introduce young athletes at this level to athletics in an engaging and fun environment.
At the Event Group stage Youth Academy, Open Academy and Event Group Development Squads aim to nurture the development of promising young athletes as they negotiate their teenage years. As well as, providing development opportunities, networking and planning support for their coaches.
Athletics NI will support coach-athlete pairs at the Event Specialist stage through the Commonwealth Potential programme with the aim of progressing athletes towards achieving medals and top eight places at the Commonwealth Games, and gaining selection onto the UKA Futures Programme or the Irish Carding System.
This may include strength and conditioning provision, facilities access and financial support. Commonwealth Potential Coaches will have access to bespoke developmental opportunities delivered by Sports Institute Service Providers and will have access to international coaching conferences.
At the top of the pathway is Performance. Performance Athletes and their coaches will be supported through the Podium Potential Programme. Performance will be measured against the IAAF scoring system.
Athletes will be considered for this programme if they score 1100 points or have achieved World or Olympic Standards in the last two years.
Potential will be measured on progression year on year, taking into account commitment to own development and adherence to a contract of agreement.
Laura Kerr, Coach Development & Physical Preparation Lead at Athletics NI, said: "We're delighted to launch our new pathway, and are excited to see it develop athletes and coaches, inspiring and supporting them to take the next step on their athletics journey.
"The pathway takes into account the sporting environment athletes and coaches work within, such as schools, universities, clubs, communities and performance centres, highlighting the crucial interactions, and relationships, at each stage of athlete development.
"At Athletics NI, we aim to offer positive and rewarding experiences to every athlete in every training environment so they may reach their full potential. We aim to get more athletes to major championships and to improve the quality of coaching at every level.
"We're confident success at international level will attract more participants into the sport and more members for Athletics Northern Ireland. Fundamentally, we believe that Talent and Performance drive Participation and Participation drives Talent".
Click here to read more about the Athlete Development Pathway.