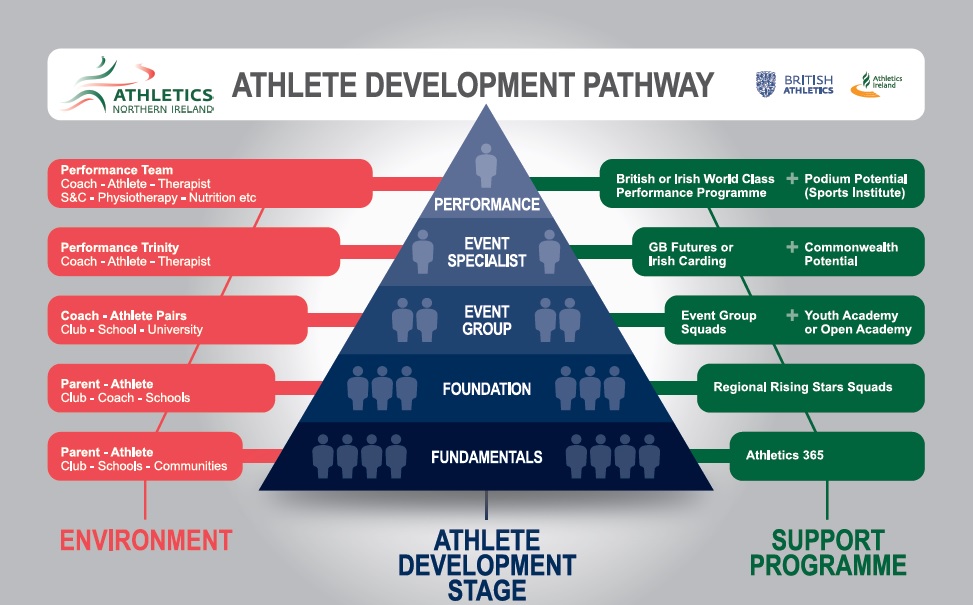 Launched in October 2017, our Athlete Development Pathway aligns the British Athletics Athlete Development stages with key athlete and coach support programmes delivered in NI.
Entry to the pathway is from ~8 years old through the following levels of development:
The pathway takes into account the sporting environment athletes and coaches work within, such as schools, universities, clubs, communities and performance centres, highlighting the crucial interactions, and relationships, at each stage of athlete development.
Athletics NI aim to offer appropriate, positive and rewarding experiences to every athlete in every training environment so they may reach their full potential. We aim to get more athletes to major championships and to improve the quality of coaching at every level. Success at international level will attract more participants into the sport and more members for Athletics Northern Ireland. We believe that Talent and Performance drive Participation and Participation drives Talent.
Athletics NI will support athletes, coaches, parents and teachers at Fundamentals level through the delivery of Athletics 365 - a curriculum of technical run, jump, throw skills that has been developed by England Athletics and adopted by British Athletics across the four home nations.
Athletics NI provide regular Athletics 365 workshops for club coaches, teachers and sports science students. Supported by a coach's manual and videos, 365 provides tiered progressions aimed at 8-15 year olds, initially addressing the ABCs of movement.
Athletics NI support athletes, coaches, parents and teachers at Foundation level through several 'grass-roots' initiatives (Flahavan's Junior Cross Country Squad and StarTrack) and our flagship Rising Stars programme.
Delivered weekly in eight regions, by coaches deployed and trained by Athletics NI, Rising Stars focuses on delivering a sound physical preparation programme and a multi event approach to athletes aged 12-15.
These squads act as an example of best practice for coaches and clubs whilst also providing an appropriate environment to nurture talented young athletes emerging from schools competition.
Rising Stars is aligned to our Apprentice Coach Programme work under the supervision of an experienced mentor coach, gaining expertise in delivery of the curriculum.
At Event Group level Athletics NI support coach-athlete pairs with initiatives including:
Selected based on performance, Power of 10 rankings and potential to progress, athletes will be tracking towards senior success.
Features of the programme include: Movement screening and physical preparation curriculum including running mechanics, plyometrics, mobility, gym based training options and lifestyle planning support.
These sessions will give aspiring athletes between the ages of 14 & 21, and their coach, experience of the core concepts behind the Youth Academy Programme.
Open Academy sessions running approximately every eight weeks will give developing athletes and their coaches exposure to movement screening, physical preparation sessions and athlete education seminars. Academy resources are available online, and free of charge, via NI Futures.
Event Group Development Squads
Squads for Endurance, Sprints & Hurdles and Jumps & Throws will bring together Event Group athletes and coaches on a quarterly basis to increase knowledge, network, train and hear from expert coaches.
Athletics NI support coach-athlete pairs at the Event Specialist stage through the Commonwealth Potential Programme that aims to progress athletes towards achieving medals and top eight places at the Commonwealth Games and to gain selection onto the UKA Futures Programme or the Irish Carding System.
At this level, bespoke support will focus on specific needs of the athlete coach pair with opportunities for input on technical coaching, strength and conditioning, physiotherapy, training camps, sports science and sports medicine.
There are two tiers within this programme:
Tier 1: Nominated for Commonwealth Games and 1050 IAAF scoring points
Programme Features: Individualised and integrated support and exposure to support services (eg, nutrition, prehab and maintenance, S&C facility access & strength diagnostics), financial support.
Tier 2: 1000 IAAF scoring points
Programme Features: Strength diagnostics & S&C programming from ANI staff if requested, facility access during Athletics NI booking, discretionary financial support (competition and Injury).
Performance Athletes and their coaches will be supported through the Podium Potential Programme.
The aim of the Podium Potential Programme will be to achieve medals and top sixteen places at the Olympic Games, Paralympic Games and World Championships and to gain selection onto the UKA World Class Performance Programme or the Irish Carding System at Performance level.
Through the Podium Potential Programme, Athletics NI will provide:
Bespoke Sports Science and Medicine support with an integrated approach, through the

Sport NI Sports Institute

.

Financial support for training, competition and equipment.

Six weekly planning/monitoring/review meetings face-to-face with the Athlete Development Lead or Director of Coaching and Athlete Development

Up to two squad training camps per year for warm weather/altitude/acclimatisation leading towards targeted competitions.