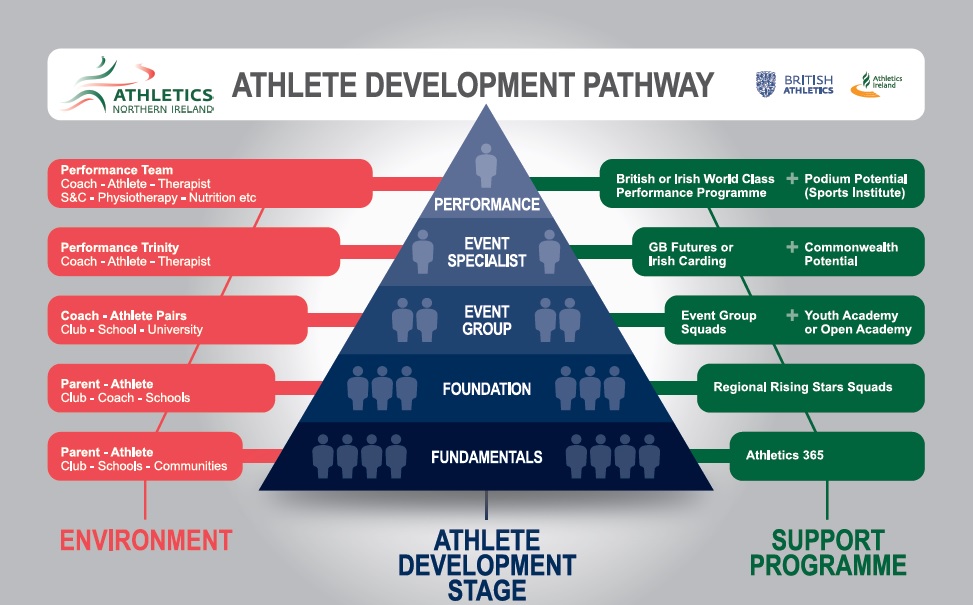 Performance
Performance Athletes and their coaches will be supported through the Podium Potential Programme. Performance will be measured against the IAAF scoring system. Athletes will be considered for this programme if they score 1100 points or have achieved World or Olympic Standards in the last two years. Potential will be measured on progression year on year, documented evidence of commitment to own development and adherence to a contract of agreement. Retention of athletes in this programme will be reviewed on a six monthly basis and based on all of the above.
The aim of the Podium Potential Programme will be to achieve medals and top sixteen places at the Olympic Games, Paralympic Games and World Championships and to gain selection onto the UKA World Class Performance Programme or the Irish Carding System at Performance level.
Podium Potential athletes will be eligible for Sporting Winners investment that includes support from the Sport Northern Ireland Sports Institute (SNISI).
Through the Podium Potential Programme, Athletics NI will provide:
Bespoke Sports Science and Medicine support with an integrated approach, through the

Sport NI Sports Institute

.

Financial support for training, competition and equipment.

Six weekly planning/monitoring/review meetings face-to-face with the Athlete Development Lead or Director of Coaching and Athlete Development

Up to two squad training camps per year for warm weather/altitude/acclimatisation leading towards targeted competitions.
To find out more on more on specific financial support for athletes residing within or outside Northern Ireland and to see the currently supported athletes please see the Podium Potential page.