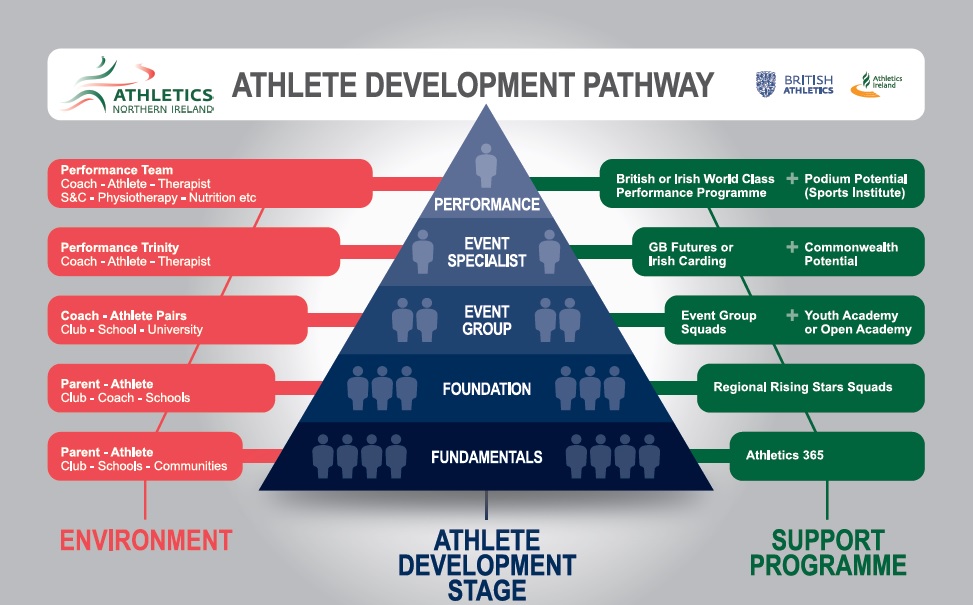 Event Specialist
Athletics NI support coach-athlete pairs at the Event Specialist stage through the Commonwealth Potential programme with the aim of progressing athletes towards achieving medals and top eight places at the Commonwealth Games and gaining selection onto the UKA Futures Programme or the Irish Carding System.
At this level, bespoke support will focus on specific needs of the athlete- coach pair with opportunities for input from technical coaching, strength and conditioning, physiotherapy, training camps, sports science and sports medicine. By fine tuning all aspects of training and performance behaviours for each athlete, with the sole aim of performing at major championships, we will raise performance standards.
There are two tiers within this programme:
Tier 1: Nominated for Commonwealth Games and 1050 IAAF scoring points
Programme Features: Individualised and integrated support and exposure to support services (eg, nutrition, prehab and maintenance, S&C facility access & strength diagnostics), financial support.
Tier 2: 1000 IAAF points
Programme Features: Strength diagnostics & S&C programming from Athletics NI staff if requested, facility access during Athletics NI booking, discretionary financial support (competition and Injury).
To find out more on specific support for athletes resident within or outside Northern Ireland and to see the currently supported athletes please see the Commonwealth Potential page.