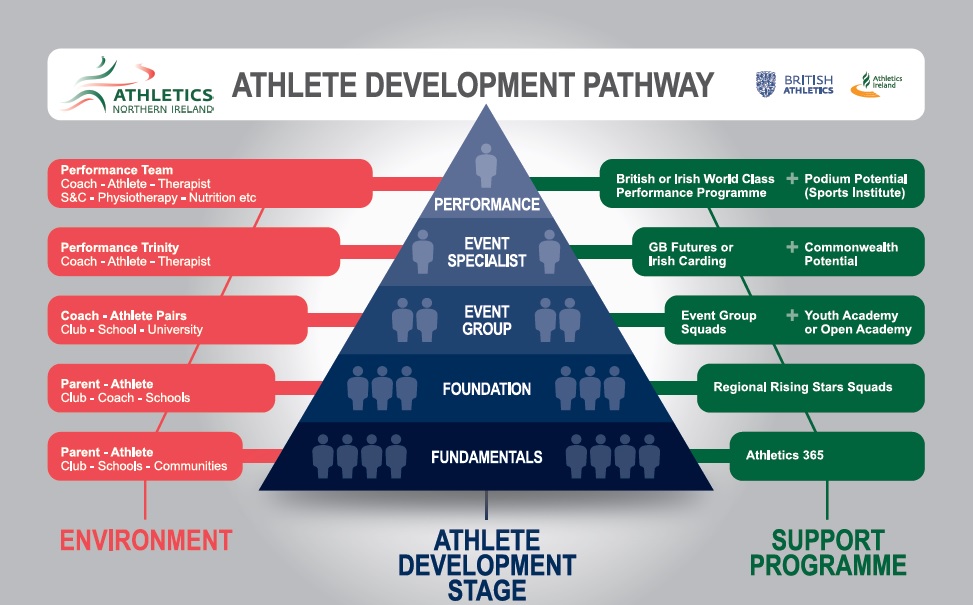 Foundation
Athletics NI will support athletes, coaches, parents and teachers at Foundation level through several 'grass-roots' programmes and our flagship Rising Stars Initiative.
Programmes include:
An athlete development initiative delivered weekly in eight regions by coaches deployed and trained by Athletics NI. Rising Stars focuses on delivering a sound physical preparation programme to athletes aged 12-15. These weekly squads act as an example of best practice, in delivery of a multi event approach, for coaches and clubs whilst also providing an appropriate environment to nurture talented young athletes emerging from schools competition.
Rising Stars addresses the building blocks of athleticism, which underpin training for any event or sport and recent successes of Rising Stars graduates in national and international Multi Event competitions has demonstrated that young athletes can achieve success whilst being engaged in a programme focused on long term athlete development.
Athletics NI encourage coaches to gain experience of the Rising Stars curriculum through our coaching apprenticeship programme. With the support of Athletics NI coaches the Rising Stars Multi Event Approach may also be adopted and rolled out in a club environment.
Click here to find out more on this year Rising Stars
Flahavans' Junior Cross-Country Squad
The Flahavan's Junior Cross Country Squad is an initiative for 10–12 year olds who have been selected following their performances in the Athletics NI Primary School Cross Country Final.
The Junior Cross Country Squad brings together aspiring junior athletes from across Northern Ireland for training sessions in various locations.Squad members attend four training session between April and December with a special 1000 metre track race during the summer.
StarTrack camps for 8 to 15 year olds run during Easter, Summer and Halloween breaks and aim to introduce children to the sport and develop their skills. StarTrack is a great way of helping young athletes transition from school to club athletics and with fully qualified coaches is a fun, safe and enjoyable environment.
All StarTrack camps follow a multi-event approach and include sprints, hurdles, jumps (high & long), throws (shot & javelin), endurance, orienteering and games. To find out more on upcoming StarTrack initiatives please see the Startrack page