NI and Ulster Ladies Take Stirling by Storm
09 September 2019
The Northern Ireland and Ulster ladies seized a superb victory at the Stirling 10k Inter Area Road Race Series on Sunday 8th September with a number of brilliant performances.
The Women's team came 1st ahead of the teams from the North of England and Scotland, with Fionnuala Ross (Armagh AC) leading the way in 33.38s, just short of her PB of 33.30s to take the individual 1st place in the Inter Area competition.
Mourne Runners' Laura Graham followed her in 4th place in the competition in a time of 35.01s, with Sinead Sweeney finishing in 8th place in a time of 35.44s, just 2 secs from her PB of 35:42s. Sarah Lavery (Beechmount Harriers) rounded out the team in a new PB time of 36.02s taking 11th place.
The Men's team took 3rd place, behind Scotland and the North of England. North Belfast Harriers' Conan McCaughey led the team home, finishing in 11th place overall in a time of 30.29s, a new season's best.
Close behind him was Acorns AC's Eoin Hughes who finished in 16th place in a new PB time of 30.52s, followed by City of Lisburn AC's Chris Madden in 18th place in a time of 31.12s. Foyle Valley AC's Scott Ranking finished in 27th place in a time of 31.30s to complete the team.
Full results can be found here
This is the first year that the NI & Ulster team have competed in the Inter Area Road Race Series, which offers a great opportunity for athletes who are transitioning to longer distances to compete against teams from the North of England, South of England, Midlands, Armed Forces, Scotland and Wales. This was the 3rd race in the series, with teams already having competed at the TQ10k in Belfast and the Race to Victory 5k in Cardiff.
More information on the Inter Area Road Race series and the selection policies can be found here: https://athleticsni.org/Athletes/Competition-Opportunities
Elsewhere this weekend…
Torque Racing Club's Andrew Greer had a terrific weekend at the BWAA Stoke Mandeville Grand Prix on Saturday 7th and Sunday 8th September. Andrew gained 3 new PB times in the 100m, 200m and 400m wheelchair events.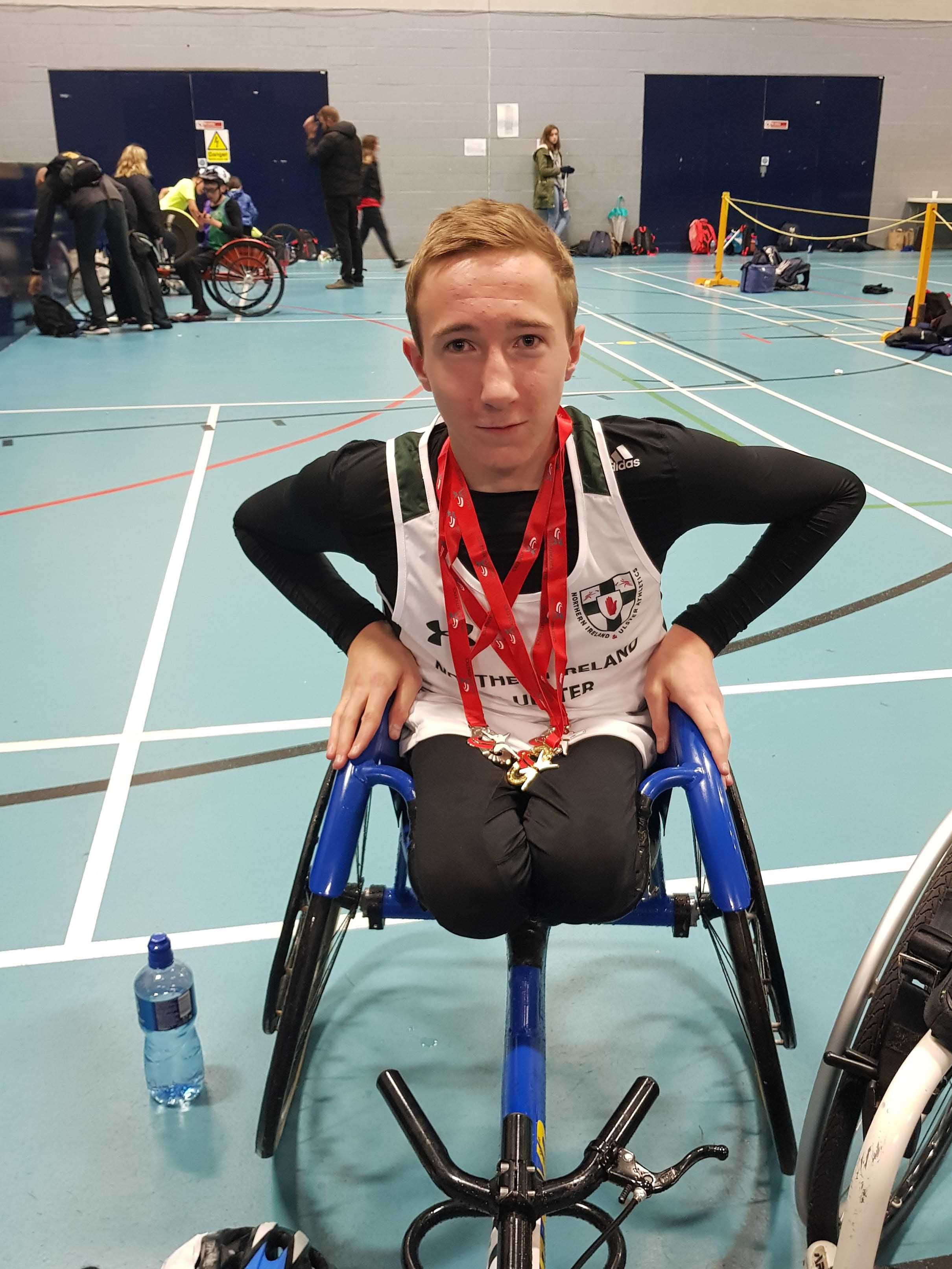 Andrew completed the 100m in a time of 16.77s and the 200m in 30.85s. He then finished his weekend with the 400m event in a time of 60.78s.