Officials Education
Whether you would like to help rake a sandpit during an open meeting, or develop to a higher level and be a lead official at the NI & Ulster Championships or even progress to the Commonwealth, Olympic or Paralympic Games, there is an opportunity for you!
The future of athletics competitions and the success of the competition calendar is dependent on new and existing volunteers, throughout all disciplines of the sport. Knowledge or experience of athletics is not essential as full training will be provided by Athletics NI and UK Athletics.
The demand for skilled officials is increasing, as the competition opportunities evolve, so that Athletics Northern Ireland can continue to provide athletes with the best possible chance to suceed and improve their performance.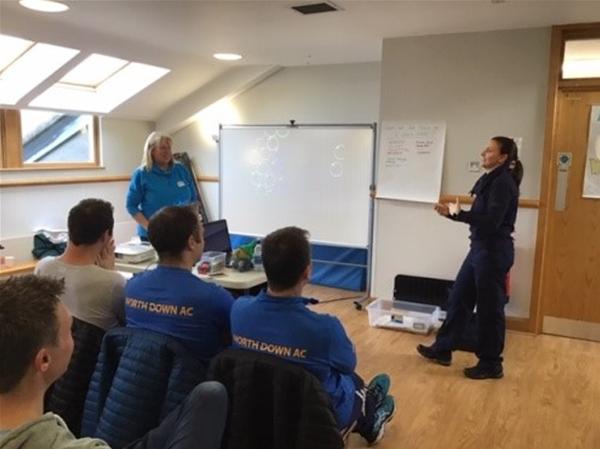 If you would like to become and Official and volunteer at your local Athletics Club a list of athletic clubs throughout Northern Ireland is on the Athletics NI website.
How Do I get Started?
The first step to becoming a qualified officials for any person who is new to the sport, is the Assistant Officials Course. If you already have a background within the sport, or have been volunteering at your local club or event, you may already have a basic understandng of athletics events and the competition environment. The next step for you, would then be to sign up for a Level 1 course, for Track, Field, Timekeeping, Photo Finish, Endurance or Starter/ Starter's Assistant.
Track & Field Officials Pathway
Access NI Check
In order to become a fully qualified official, you will need to complete an Enhanced Access NI Check through Athletics Northern Ireland and have your ID documentation verified. Details on how to do this can be found on the Licensing section of our website here:
Safeguarding Module
The purpose of the Safeguarding self-taught module is to enhance the understanding of what safeguarding is and how the role as an official can be important to ensuring a safe environment for everyone involved in athletics. This module is required to be completed to become a licenced official (for individuals 16 years of age or over) and completed for renewing your officials licence every 3 years.
Key features
Two modules with multiple choice questionnaires
70% pass mark required.
Other Documents
Codes of Conduct & Safeguarding
Should you require additional information please contact Athletics NI via email info@athleticsni.org or on 028 9060 2707.